2012 Subaru Impreza Priced at $17,495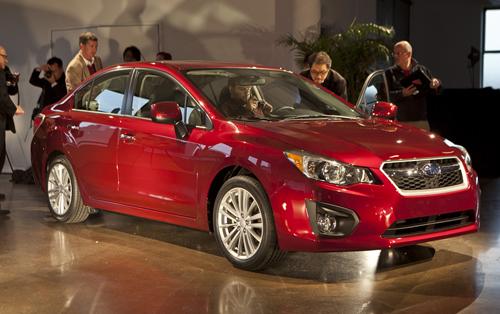 The fully redesigned 2012 Subaru Impreza will go on sale this November with the exact same entry price as its predecessor, starting at $17,495, excluding a $750 destination charge.
The starting price gets you the sedan body style with a five-speed manual transmission, a new 2.0-liter four-cylinder engine and, of course, Subaru's all-wheel-drive system. With the new continuously variable automatic transmission (a $1,000 option) the Impreza achieves an EPA-estimated 27/36 mpg city/highway. The entry-level hatchback body style starts at $17,995.
The 2012 Impreza comes in base, 2.0i Premium, Sport Premium, Limited and Sport Limited trims. The Limited trim is a new addition for 2012.
Premium models start at $18,795 for the sedan and $19,295 for the hatchback, $300 more than the current versions. The Sport Premium comes only as a hatchback and starts at $20,295. The Limited trims include an all-weather package, automatic climate control and LCD screen; they start at $21,595 for the sedan and $22,095 for the hatchback. Subaru hasn't priced the Sport Limited trim yet.
For a detailed list of feature content, check out our first look here.
2012 Subaru Impreza pricing (2011 pricing)
2.0i sedan (manual): $17,495 (same)
2.0i sedan (CVT): $18,495 (same)
2.0i hatchback (manual): $17,995 (same)
2.0i hatchback (CVT): $18,995 (same)
2.0i Premium sedan: $18,795 ($18,495)
2.0i Premium hatchback: $19,295 ($18,995)
2.0i Sport Premium: $20,295 ($19,995 Outback Sport)
2.0i Limited sedan: $21,595 (new)
2.0i Limited hatchback: $22,095 (new)
Sport Limited hatchback: N/A (new)
Destination: $750 ($725)