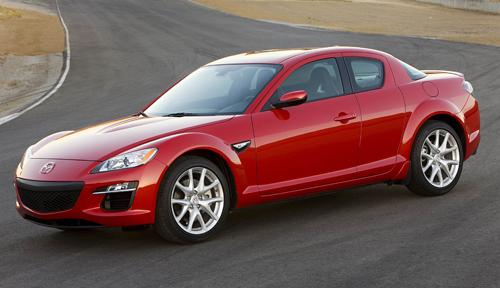 The 2011 Mazda RX-8 will be the last model year for this iconic sports car, according to Mazda spokesman Jeremy Barnes. He said production of the model has already ceased, meaning whatever is left at dealerships is likely what's left of new RX-8 inventory. (We count 219 new RX-8s nationally on Cars.com.)
There's no word on whether Mazda will bring an RX successor; the RX-8 replaced the RX-7 here in 2002. Along with the Miata, the RX played a key role in forming Mazda's "Zoom-Zoom" identity. The RX-8 featured a standard high-revving rotary engine — the only car in the U.S. that had such a configuration. If the RX-8 is not replaced, that could very well mean the end of Wankel rotary engines in this country. The automaker has been building rotary-powered cars since the 1960s.
The RX-8 was certainly a rare breed here. The car had a low-slung appearance, but it was rather accommodating with its hidden rear-hinged doors. Unfortunately, the rotary engine had pretty odd characteristics that might put off some car buyers. And its fuel economy was lousy.
Mazda has only sold 544 RX-8s so far in 2011, down 20.8% from 2010.
Related
2011 Mazda RX-8 Video