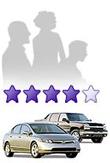 "Fast Gal" from Chicago recently traded in her all-wheel-drive BMW 325ix for another all-wheel-drive sports car, the 2011 Infiniti G25x. That should make Infiniti execs ecstatic. While the G25 has proven to be comfortable over long trips, its gas mileage and performance are less than stellar, Fast Gal says. Continue reading the full review — she gives a six-month report — to find out more. Once you're done, write a review about your own car here.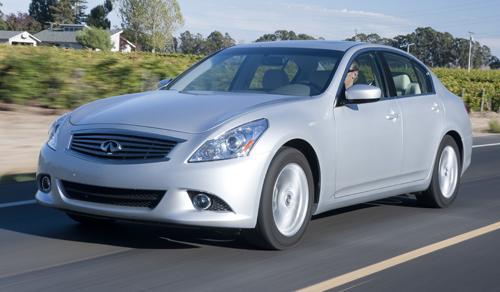 "I purchased the G25x after my BMW 325ix died in January. So, this is based on six months of use in all conditions. Overall, I really love this car, but want to point out some issues another person might or might not consider relevant.
"Traction: Beyond belief, the best of the cars I test-drove and light years ahead of my 325ix. I bought it in winter and compared to the all-wheel-drive Lexus and Mercedes, it's far superior in snow and ice. If you live where there is snow and have to drive in it, this is the car for you.
"Interior: The interior is spacious and comfortable for long trips. Space is adequate for all. Heat and air conditioning perform well.
"Backup camera: I thought I found nirvana with our Volvo's backup beeps. The 180-degree camera will be on every car I ever own.
"My only two issues with the car is when I bought it, there was snow on the ground so that limited my ability to really get it to speed. I went with the smaller engine for the gas mileage, which has been mixed: highway at 55 mph can be over 32 mpg [Editor's note: the G25X is rated at 27 mpg highway], but city mileage is worse than the BMW, which had a bigger engine. The car is just too heavy for the stop-and-go routine in city traffic. Forget traffic garage ramps; I think I need to get out and push. Also, the acceleration is limited, so if you really need to get up to speed to get in front of that truck, you might be getting nervous, and forget getting around that milk truck going 50 mph on the two-lane country road.
"Audio: The sound is better than our Volvo and comparable to my BMW. The XM Satellite Radio interface is easier to use than our Volvos, but note that it does not have the Music Box that the G35 has. The dealer told me there was one, but after a week with the car I could not figure out how to get my music on. Oh, no, no Music Box. Just plug in your iPod. I really do not like leaving an iPod in the car or having to look down to adjust my music in my lap. If I knew about this I would have gone with the G35 since much of my driving is in winter alone, so I like my music.
"Overall, I would recommend this car for the traction performance, comfort and price. The low-interest financing really made it a good deal. If I had to do it over, I would still get the Infiniti, but the G35 for the acceleration and Music Box."