2012 Chevrolet Camaro ZL1 Joins Growing 500-Plus Horsepower Club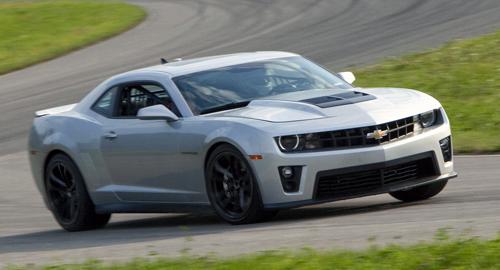 The number of new 500-plus horsepower cars is a surprisingly long list, but admission to the club isn't cheap even from non-exotic automakers. The supercharged 2012 Chevy Camaro ZL1 — slotted above the already potent SS — will make 580 horsepower when it goes on sale in early 2012. Pricing hasn't been announced, but we expect the ZL1 to stay close to its most appropriate rival, the 2012 Ford Mustang Shelby GT500 that starts at $48,645.

Below are a few examples of how much money it takes to get 500-plus horsepower. A Camaro or Mustang won't be mistaken for an Audi R8, but the money-to-horsepower ratio of 'roided-up muscle cars like the supercharged GT500, and potentially the ZL1, is impressive. And as you can see, only one has more than 580 hp.
500 Horsepower Cars By Price
2011 Ford Mustang Shelby GT500: $48,645, 550 hp
2012 Cadillac CTS-V: $63,215, 556 hp
2012 Chevrolet Corvette Z06: $75,525, 505 hp
2012 BMW X5 M: $86,400, 555 hp
2012 Mercedes-Benz E63 AMG: $88,900, 518 hp
2012 Nissan GT-R: $89,950, 530 hp
2012 Jaguar XJ Supersport: $111,200, 510 hp
2012 Chevrolet Corvette ZR1: $111,525, 638 hp
2012 Porsche 911 Turbo: $137,500, 500 hp
2012 Audi R8 5.2: $149,000, 525 hp
2012 Mercedes-Benz SLS AMG: $187,725, 563 hp
2012 Lexus LFA: $375,000, 552 hp