Land Rover Defender Concept at the 2011 Frankfurt Motor Show
Looks like: Land Rover wants to redefine off-roading for the 21st century
Defining characteristics: Plug-in hybrid capability
Ridiculous features: Telemetry sensors might ruin some of the off-roading thrill
Chances of being mass-produced: 100%; 50-50 if it comes to the U.S.
On Wednesday, Jaguar showed off a pure rear-wheel-drive sports coupe concept that points to a green, techy theme for the brand's future models. Today, Jaguar's sister company, Land Rover, gave us an indication of what it thinks its brand will stand for in the 21st century — mostly green and techy like Jaguar, but with a rugged, versatile twist. All of these ideas are packaged into the venerable Defender model, a namesake for Land Rover.
For those who might not be familiar with the nameplate, the Defender is to Land Rover what the Wrangler is to Jeep. It's the iconic core identity for the brand, and there are hints that the British SUV maker is open to the idea of bringing the Defender back to the U.S. with something that will look like this concept.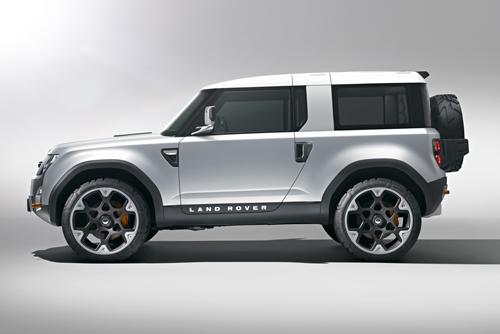 The two-door, boxy SUV is powered by a 2.0-liter four-cylinder gasoline or diesel engine and an eight-speed automatic transmission. The powertrain is likely the same one found on the new Range Rover Evoque. The engine would have start-stop capability, and there would also be hybrid or plug-in hybrid capabilities, too. Permanent four-wheel drive would be standard, of course.
Like the Wrangler, the Defender is an extreme off-roader — apparently, the SUV is big with Queen Elizabeth II, who drives one around on her country estate. This concept shows off a new, techy approach to off-roading. It has sonar technology to measure water depth and telemetry sensors to calculate whether or not an obstacle is traversable (and suggest a different route or optimal speed if necessary).
Although this is technically just a concept right now, Land Rover has said that it plans to build a new Defender and hopes to have something on sale by 2015. No decision has been made if the next-generation Defender will come to the U.S.