SUVs No More Deadly Than Cars in Crashes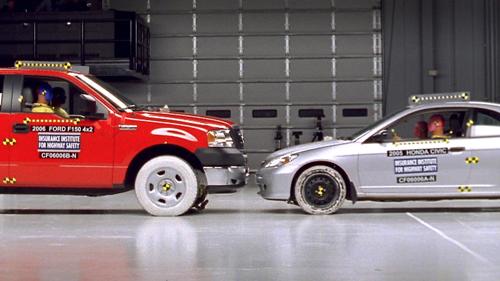 SUVs are less deadly in a crash with other passenger vehicles than previous generations of the popular body style, according to an Insurance Institute for Highway Safety study.
The study shows that modern SUVs are no longer more likely to kill fellow motorists driving a car or minivan in a crash than a collision between cars or minivans of the same weight. The likelihood that a pickup truck will kill in a crash has also diminished, according to the study. These results are in stark contrast to findings from 10 years ago.
IIHS compared fatality data from vehicles that were 1 to 4 years old in 2000 and 2001 and vehicles of the same age in 2008 and 2009. In the study, IIHS compared deaths per million registered vehicles. What it found was a nearly two-thirds drop in the deadliness of SUVs, from 44 deaths per million registered vehicles in 2000-01 to 16 deaths per million by 2008-09 for SUVs weighing 3,000 to 3,499 pounds, which is roughly the weight of a Toyota RAV4. That means SUVs are no more likely (and in the weight class described above, less likely) to kill in a crash than a car or minivan would in a crash.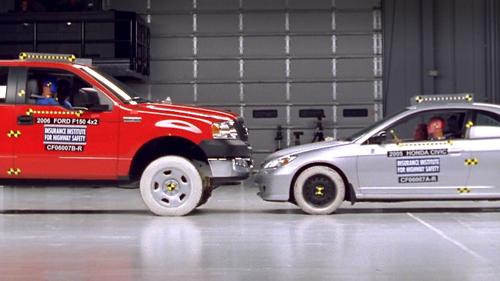 That's a big change from nearly a decade ago when SUVs, which typically have a higher ground clearance, often had incompatible bumpers with cars and minivans, bypassing a car's or minivan's bumper and causing extensive damage in a crash (as shown above). Even more deadly situations occurred in side-impact testing, where an SUV's high bumper sometimes aligned with the car's or minivan's window rather than the door, potentially causing serious head injuries.
A concerted effort by the institute, federal government and a group of carmakers helped correct this problem with subsequent vehicle designs. Bumpers were placed lower on SUVs/crossovers, making them safer overall. By 2007, nearly 81% of SUVs had compatible bumper designs, according to IIHS.
The reduction in fatalities also can be attributed to more side-impact protection, such as side curtain and thorax airbags, and the greater use of electronic stability systems.
Pickup trucks still lag behind SUVs because of the slower product development cycle, leading to fewer safety advancements. Also, the way in which trucks are used — they're designed to either tow or carry heavy payloads — means the nature of the vehicle is deadlier to other motorists. "Size and weight are still key, and a small, lightweight vehicle is going to fare worse than a big, heavy vehicle in a crash," says IIHS.
Related
Unregulated Truck, SUV Bumpers Cost Car Drivers