Top 10 Best and Worst Chicagoland Driver's Ed Fleets

In the Chicago Tribune's investigation of high school driver's ed fleets with Cars.com, some scored quite well, while others delivered embarrassing results in terms of safety. Below we break down the best and worst fleets. If you're not familiar with the area, you might recognize the make and models listed being used at schools near you. See how they would make the grade.
We looked at each car's crash-test ratings as determined by the Insurance Institute for Highway Safety, giving 50 points for a score of Good (the top score), 25 points for Acceptable, 10 points for Marginal and zero points for a Poor rating. We calculated each car's score as a percent of the best possible score, added up all the scores for one district and finding the average. The best possible average score is 100 points. We only looked at districts that reported having at least five cars in their fleet, in order to get a decent sample size. See the complete list of school fleets at chicagotribune.com/driversed.
In scoring, we gave every district the benefit of the doubt in several ways:
We didn't penalize cars that were so old (or new) that they didn't face IIHS crash tests.
Whenever a rating would rise based on an assumption, we assumed the best for a district's cars. For example, in many cases a crash test rating would improve from Poor or Acceptable to Good if optional side airbags were included. We found that many schools were unaware if they had purchased that option, so for the purposes of scoring, we acted as if they did to give them the benefit of the doubt.
The editors at Cars.com prefer IIHS crash-test scores because their tests are more rigorous — and better reflect real-world crash situations — than those conducted by the National Highway Traffic Safety Administration.
The districts with the safest cars in 2010 and 2011 have, not surprisingly, some of the newest cars in school fleets around the Chicago area. Here's a district-by-district look at the top performers:
No. 1 (tie) Bloom Township District 206 (Chicago Heights, Ill.)
Grade: A+
Avg. score per car: 100 points
The school district's entire fleet is made up of Dodge Avengers, which have good ratings for front, side and roof-crush ratings, but there's an added bonus: The Avenger is a noted laggard in the speed department, making this a good way to rein in teens who might want to drive with a lead foot.
No. 1 (tie) Orland Park, Ill., Community High School District 230
Grade: A+
Avg. score per car: 100 points
Here's one district that made a good, all-in bet on its cars: Its fleet of 2009 Honda Civic gets a good rating in all four crash tests, making it a good choice for young drivers. It also doesn't hurt that the Civic has excellent resale value. In addition, while the Civic has good passing power, it doesn't jump off the line, which will help keep teen drivers safer.
No. 3 Niles, Ill., District 219
Grade: A+
Avg. score per car: 99 points
Niles gets high marks for having very new cars, which score well in crash-test ratings. Still, not everything is perfect; the district also has three Chevrolet Camaros in its fleet. While the Camaro is a striking car, and fun to drive, its high horsepower, limited rear visibility and rear-wheel-drive make it a trying car for new drivers. While perfectly fine for experienced drivers, it's not a common-sense choice for teenagers just learning how to drive.
No. 4 (tie) Lyons Township High School District (La Grange, Ill.)
Grade: A
Avg. score per car: 96 points
Lyons Township is a little unusual in that its fleet is made up entirely of Hondas and Toyotas. While those automakers are certainly well known to consumer car shoppers, those two nameplates make up only 7% of the drivers' education fleet at the Chicago-area school districts that we examined.
No. 4 (tie) J. Sterling Morton School District 201 (Berwyn, Cicero, Ill.)
Grade: A
Avg. score per car: 96 points
Although this district chose well in picking up a fleet of 2011 Chevy Malibus, it was hurt by the couple of 2011 Chevy Impalas in the fleet. The Impala is a bigger car, but its rear crash tests lag the Malibu.
No. 6 Naperville, Ill., District 203
Grade: A
Avg. score per car: 95 points
District 203 is very much a Ford family of cars. Most are sedans (Focuses and Fusions), but also with a crossover thrown in (the Edge).
No. 7 Community High School District 218 (Blue Island, Oak Lawn, Palos Heights, Ill.)
Grade: B
Avg. score per car: 86 points
This district's fleet is made up of 2009 Fords and Chevys, and while the crash test scores are not bad, it seems likely that they'll be looking to upgrade their fleet soon, which should improve their already good standing.
No. 8 Rich Township District 227 (Olympia Fields, Park Forest, Richton Park, Ill.)
Grade: B
Avg. score per car: 84 points
This district's purchases are very mainstream: A typical blend of GM and Ford models. Like most schools, there are many sedans with a couple of SUVs thrown in. Its score is dragged a bit by the Pontiac G6s it bought. Both Pontiac and the G6 stopped production years ago.
No. 9 (tie) Proviso Township District 209 (Forest Park, Hillside, Maywood, Ill.)
Grade: B
Avg. score per car: 83 points
District 209's fleet is made up almost entirely of 2010 Ford Focuses (there's one 2011 model), and that model only gets acceptable ratings in the side crash tests it faced.
No. 9 (tie) Thornton Township District 205 (Dolton, Harvey, South Holland, Ill.)
Grade: B
Avg. score per car: 83 points
Like District 209, District 205's fleet is made up almost entirely of 2009 Ford Focuses, and that model only gets acceptable ratings in the side crash tests.
The Bottom 10 Districts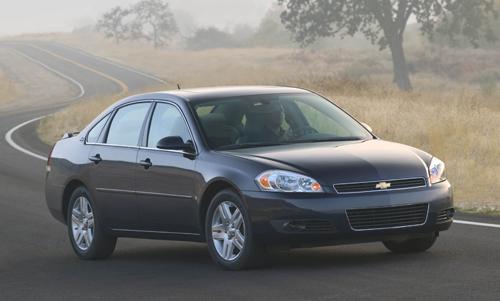 No. 1 Chicago Public Schools
Grade: F
Avg. score per car: 26 points
Perhaps it's not surprising that Chicago has the oldest, lowest-scoring fleet for 2010 and 2011, given the district's size and complexity. Still, its fleet has some appalling vessels, cars that either failed the crash test standards set nearly two decades ago, or were built before crash-testing was widespread. Among the cars still in use today, according to school officials:
A 1990 Dodge Shadow, a model that was last produced in 1994, with a starting MSRP of $8,806. The district has three cars still in its fleet that are likely older than the students learning to drive on them.
A 1995 Chevy Cavalier, which back in 1995 received grades of "poor" for front and rear crash tests from the IIHS.
More than 50 Plymouth Neons and Breezes from 1996-1999. Plymouth, the Neon and the Breeze are all long gone.
According to the information provided by the district, its newest cars are from the 2006 model year.
No. 2 Elgin, Ill., U-46
Grade: F
Avg. score per car: 31 points
Elgin officials seem to have had good intentions in the models they chose: They went for full-size sedans that are larger than the typical compact cars often found in other district fleets. Unfortunately, the 2007 Chevy Impalas suffer from marginal rear crash-test ratings and only acceptable frontal crash-test ratings. The 2004 Ford Taurus models in the fleet don't have the side airbags that would have raised scores.
No. 3 (tie) Township District 214 (Arlington Heights, Buffalo Grove, Elk Grove Village, Mount Prospect, Rolling Meadows, Wheeling, Ill.)
Grade: F
Avg. score per car: 50 points
District 214 has a very uniform fleet, but it's an aging one. The collection of 2004 Chevrolet Malibus scores a Poor rating in side crashes, and only an Acceptable rating in rear crash tests. The Poor side crash test rating comes because the cars were bought without the optional side airbags.
No. 3 (tie) Vernon Hills, Ill., District 128
Grade: F
Avg. score per car: 50 points
Vernon Hills has stocked its fleet with minivans. That's right, minivans. They make sense for teen drivers: Drivers can ride higher than in a typical sedan and many of the suburban teens will find the ride familiar, as children of the minivan and SUV generation. Unfortunately, they are older GM minivans, the 2006 Chevy Uplander. The Uplander, never a huge seller, is plagued by poor crash-test scores; while frontal scores are good, rear and side scores are only poor. The Uplander's last model year was 2008.
No. 5 Romeoville, Ill., Valley View District 365U
Grade: F
Avg. score per car: 51 points
While the district's Ford Tauruses all have Good front crash test ratings no matter which model year (they run from 2002-2004), they have only Acceptable or Marginal rear crash-test ratings. In addition, the 2008 Chevrolet Impalas in the district's fleet fail to get higher than an Acceptable rating in any crash test.
No. 6 (tie) Hinsdale, Ill., District 86
Grade: F
Avg. score per car: 58 points
This district helps to prove a point: Even districts in affluent areas like Hinsdale can make poor choices when it comes to safety ratings. First of all, the district's fleet is fairly old, with models from the 2006, 2007 and 2008 model years. Next, the district went with larger cars, including the Ford Taurus and Chevrolet Impala, but both have low crash-test scores.
No. 6 (tie) Woodstock, Ill., District 200
Grade: F
Avg. score per car: 58 points
Woodstock's cars are all over the map, ranging from the 2002 model year to 2010. While the district has chosen mostly sedans, it also has the rare Chevrolet HHR (GM's answer to the iconic PT Cruiser) among its cars.
No. 8 Warren Township District 121 (Gurnee, Ill.)
Grade: D-
Avg. score per car: 62 points
This district has split its current fleet between the Chevy Malibu and its corporate cousin, the late, lamented Saturn Aura. While the Aura helped raise the average score, the Malibus are a big drag on the overall average.
No. 9 (tie) Elmhurst, Ill., District 205
Grade: D+
Avg. score per car: 69 points
Elmhurst stands out because, in addition to the Ford Tauruses and Fusion that it has, it also has two Toyota Prius hybrids in its fleet. It is one of very few districts that use a hybrid car at all. Unforunately, the 2009 Prius model has marginal rear crash test scores, dragging down the district's score.
No. 9 (tie) Palatine, Ill., Township District 211
Grade: D+
Avg. score per car: 69 points
District 211 has a fleet of Ford Tauruses that range in model year from 1999 to 2006, which have decent crash test scores. It's the fleet of Chevrolet Impalas from 2008 that have Marginal rear crash test scores and only Acceptable front crash test scores that drag the school's fleet average down.