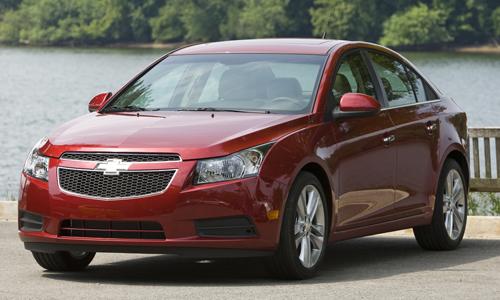 August was another solid month of sales growth for many popular carmakers, but Toyota and Honda once again remained the exception.
General Motors (up 18%), Ford (up 11.2%), Nissan (up 19.2%) and Hyundai (up 9.1%) all recorded strong growth. Chrysler grew by 31%, which the automaker says is "well above the industry average." Stable truck sales buoyed GM, Ford and Chrysler: The Ford F-Series and Chevrolet Silverado are firmly the top-selling vehicles of the year thus far, and Ram sales have grown nearly 25% compared with 2010.
The Chevrolet Cruze was the third-best-selling car of the month, and it was the best-selling compact car. It's also GM's best-selling car, beating the Chevy Malibu and Impala year-to-date.
Toyota and Honda were a different, yet familiar, story. Both companies saw double-digit declines compared with a year ago. Toyota was down 12.7% while Honda fell a whopping 24.6%.
Despite the slump, the Toyota Camry remained the top-selling car in August, with more than 30,000 of the family sedans reaching customers. The Honda Accord returned to the top 10 best-selling list, finishing in ninth place. The once-venerable nameplate was absent from the list in July.
Nissan says it was able to gain sales from competitors that are having inventory trouble — presumably the automaker is talking about its Japanese competition — and expects to continue gaining more share of the car market in the future. The Nissan Altima was the second best-selling sedan for the month.
Despite their August sales numbers, Toyota and Honda remain optimistic that sales will pick up in September. Both automakers noted that car production is back at 100% after the tsunami in Japan slowed down production. That return to normalcy occurred toward the end of August, so we'll have to wait and see how September turns out to get an indication of a second wind at either carmaker.
The big variances in sales performance were enough for Chrysler to catapult ahead of Toyota to become the third-largest U.S. car retailer for August – Toyota is traditionally a second- or third-rung player. Nissan surpassed Honda to become the fifth-largest player. Hyundai is still far away from matching the sales figures of the above six heavyweights, for now.