31 Booster Seats Named Best Bets by IIHS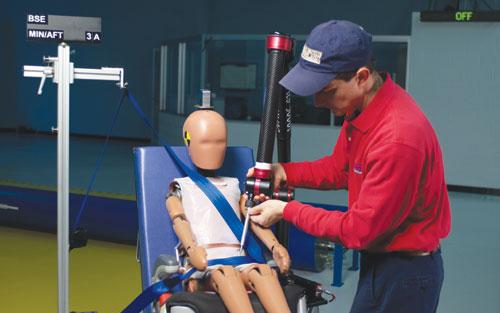 Shopping for a booster seat that will fit your child well just got easier. The Insurance Institute for Highway Safety has designated 31 booster seats as Best Bets, which means they position a seat belt correctly on a 4- to 8-year-old in nearly any car, minivan or SUV.
"A Best Bet means any of these top-rated boosters should work well in the family SUV or the baby sitter's sedan," said Anne McCartt, IIHS' senior vice president for research. IIHS has also designated five boosters as Good Bets that provide acceptable seat belt fit. Six boosters aren't recommended by the safety agency; IIHS advises parents to avoid these boosters. Forty-one boosters fall into the "check fit" category because they may provide a good fit for some but not all children.
Booster seats are an important but often skipped step for children who have outgrown a forward- facing child-safety seat. A booster elevates a child and helps correctly route the seat belt, which is designed for adults, across the child's chest and lap to give them the best protection in a crash.
IIHS' booster ratings, which began in 2008, evaluate the seats for belt fit. No crash tests are performed as part of these ratings. The ratings are designed to help parents pick the best boosters. This year, a record number of booster seats made it into the Best Bets category because manufacturers are designing boosters to meet IIHS' test protocols.
To assess fit, engineers use a test dummy that's the size of an average 6-year-old and measure how the lap and shoulder belts fit the dummy in each booster.
IIHS evaluated 62 booster models. Twenty-two of these models show up twice on the lists below because they're dual-use seats that can work as high-back or backless boosters. In its ratings, dual-use models are considered to be two separate boosters, leading to 83 seats tested.
2011 IIHS BOOSTER EVALUATION RESULTS
Best Bets
Britax Frontier 85 SICT
Britax Parkway SGL (high-back mode)
BubbleBum
Chicco KeyFit Strada (high-back mode)
Clek Oobr (high-back mode)
Cosco Pronto (high-back mode)
Cybex Solution X-Fix
Diono/Sunshine Kids Monterey (high-back mode)
Eddie Bauer Auto Booster (high-back mode)
Evenflo Big Kid Amp
Evenflo Big Kid Sport (backless mode)
Evenflo Maestro
Evenflo Symphony 65 e3
Ferrari Dreamway SP (high-back mode)
Graco Argos 70 (high-back mode)
Graco TurboBooster – Baldwin (high-back mode)
Graco TurboBooster Elite (high-back mode)
Harmony Cruz Youth Booster/Harmony Carpooler
Harmony Dreamtime (backless mode)
Harmony Dreamtime (high-back mode)
Harmony Olympian/Secure Comfort Deluxe
Harmony Youth Booster Seat
Kids Embrace Dale Earnhardt Jr.
Maxi-Cosi Rodi XR (high-back mode)
Recaro ProBooster
Recaro ProSport
Recaro Vivo
Safety 1st Boost Air Protect (high-back mode)
Safety 1st S1 Rümi Air
The First Years B570 Pathway
Good Bets
Britax Parkway SG (high-back mode)
Combi Kobuk Air Thru (backless mode)
Combi Kobuk Air Thru (high-back mode)
Evenflo Symphony 65
Maxi-Cosi Rodi (high-back mode)
NOT RECOMMENDED
Evenflo Chase
Evenflo Express
Evenflo Generations 65
Evenflo Sightseer
Safety 1st All-in-One
Safety 1st Alpha Omega Elite
Go here for full list of model numbers and booster pictures.