Cadillac Shows Off New Multimedia System, Interiors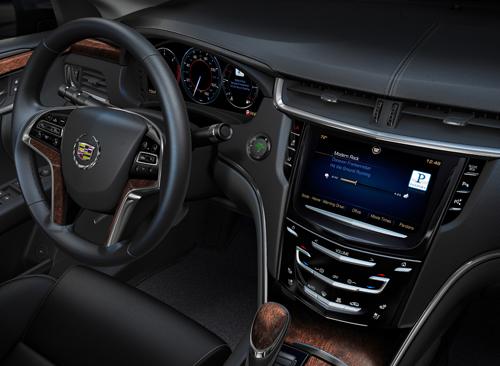 It's been a busy day at GM; we've already brought you news on the
new Chevy TrailBlazer
and Spark EV. Not to be outdone by Chevrolet, Cadillac also released images and details of its new state-of-the-art multimedia system and a sneak peek into Caddy's future interior design.
The new multimedia system, called CUE, is Cadillac's version of Chevrolet's MyLink or Buick/GMC's IntelliLink system. CUE, which stands for Cadillac User Experience, will give owners access to hands-free texting, navigation and traffic updates, and Pandora or Stitcher applications when a smartphone is tethered to the system.
CUE is an upgrade over MyLink mostly through its hardware and interior cabin integration. Shown in the photos below and above are examples of CUE in a redesigned Cadillac SRX and an unknown future car, either the upcoming XTS flagship sedan or the ATS compact sports sedan. None of these vehicles has been shown to the public, but GM confirmed that all three will go on sale in 2012.
You can see that the system gives the SRX an uncluttered look compared to the current button-centric center stack in the 2012 model.
In a similar vein to MyFord Touch, the Cadillac system will feature an 8-inch LCD touch-screen and a capacitive-touch center console, as well as steering-wheel-mounted controls. Cadillac claims its system will simplify controls rather than complicate them, though Ford had trouble executing that feat.
The capacitive-touch controls and touch-screen will resemble smartphone commands, giving access to reconfigurable menus by tapping or flicking at them, and there are multitouch gestures to zoom and scroll, for instance. The touch center console is motorized and lifts up to reveal a storage area; we saw a similar design on the 2013 Chevy Malibu. The system also will feature natural speech recognition commands.
Cadillac also claims that its system will be fast — another complaint lobbed at MyFord Touch is it's slow — by featuring three speedy processors and a nimble Linux-based operating system that gives CUE 3.5 times more processing power than any current in-car multimedia system available.
On select models, CUE will also feature a massive 12.3-inch LCD instrument cluster. We've seen similar systems on the Jaguar XJ and Land Rover Range Rover. Unlike competing systems, Cadillac's LCD instrument cluster will feature four reconfigurable displays: Simple, Enhanced, Balanced and Performance clusters.
We'll have more information on CUE when it's made available to us. For now, check out more photos below.