Class Warfare Extends to Car Buying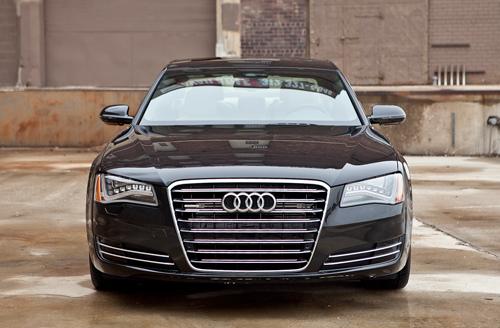 Cars intended for upper-crust buyers are bucking an overall economic trend that has the mainstream American media talking about a double-dip recession. It's not just media hype. September marked the end of a quarter that saw stocks tumble like it was 2008.
Don't take that as a suggestion that mainstream buyers aren't buying mainstream cars. In general terms, higher-priced mainstream-badged cars — we'll call them middle-class vehicles — aren't demonstrating an ability to fight their way above 2010's lackluster sales.
Two examples prove the point. Nissan just threw down the gauntlet with America's least expensive car, the proletarian new Versa, with a starting price under $11,000. Instantly, Versa sales shot through the roof, rising 68% compared with September 2010. At the opposite end of the spectrum, the $78,750 Audi A8 — a car that isn't exactly priced right for double-dip recessions — saw a 395% increase. Through the first three quarters of 2011, A8 sales are up 542%.
Although some other Audis posted higher sales volume in September compared with a year ago, the brand's least expensive model — the A3 hatchback, one of those middle-class vehicles — saw its sales fall 18%. Back at Nissan, the company's premium-but-value-oriented Infiniti division was up just 2% in September in a market that grew 10%.
Certainly, exceptions are to be found. Nissan Maxima sales, for instance, jumped 26% in September. However, the Maxima is down 7% year-to-date. Moreover, many of the Maxima's cohorts that sing in the mainstream's upper register struggled mightily last month. Dodge Charger sales slid 23% even as sales of the less-expensive Chrysler 200 shot up 87% over the September 2010 performance of the 200's predecessor, the Chrysler Sebring.
Toyota Avalon sales fell 1%, a fact that could be deemed decent given Toyota's troubling sales levels were it not for the fact that the automaker sold only 2,474 Avalons in September. Sales of the Ford Taurus plunged 38%. Are potential Taurus buyers opting instead for the less-expensive lower-class midsize Ford? Fusion sales were up 23% in September. And at GM, where all four brands reported September sales increases, the Buick LaCrosse was down 9%.
The common refrain seems to be go cheap, go home or go big. And by big, we definitely mean big price tags. The Versa's burst is not unlike the one seen at Chevrolet, where Cruze volume was 423% better than September 2010's Cobalt result. Hyundai Elantra sales rose 43% in September even as sales of the Sonata — not expensive but clearly more costly than an Elantra — slid 12%.
Even though there are brighter, newer compacts available, the Kia Forte was up 7% in September. Kia Soul sales will likely improve as the 2012 model becomes more widely available, but even in September, Soul sales jumped 25% to, oddly enough, 6,666 units. Ford Fiesta sales were up 30%. Ford's least expensive SUV, the Escape, was up 41% in September even as sales of the more expensive yet attainable Edge fell 9%.
All of this stands in contrast to the sharp gains made by many vehicles at the top of the market, even the very top. A new generation helped BMW 6 Series sales shoot up at a 576% clip. BMW posted an 11% improvement in sales of its 7 Series, the automaker's flagship sedan. Sales of Mercedes-Benz's biggest coupe, the CL-Class, were up 28%. The new CLS-Class, which starts at $71,300, jumped 399%. Sales of the G-Class SUV increased at a rate of 129%.
The Porsche Cayenne was up 15%, while Porsche's renowned but recently overshadowed 911 jumped 55%.
In the truly upper echelons, Maserati saw sales climb 46%. Bentley was up 17% in September and is up 32% year to date.
This isn't a deep and intense study of the U.S. economy, just the cars that Americans of every tax bracket are buying. It's also worth noting that America's five best-selling passenger cars in September were, in fact, mainstream midsize sedans. Nevertheless, there are signs that point to a stronger high-end luxury market and a move toward small cars that are vastly improved, well-equipped, roomy, fuel efficient and inexpensive. If this trend continues, what will happen to all the cars in the middle?
Tim Cain is a contributing writer for Cars.com and the editor-in-chief of Good Car Bad Car, a site that analyzes both U.S. and Canadian car sales.