New 40 mpg 2012 Mazda3 To Start at $18,450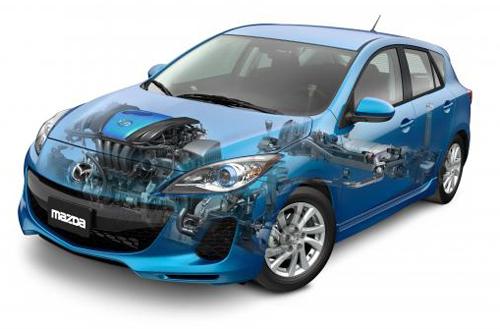 Mazda is in the midst of redefining the 2012 Mazda3, giving it a more fuel-efficient powertrain option and a less animated front-end look. Today, we learned that the new 2.0-liter four-cylinder engine, also known as the SkyActive-G, will have a starting price of $18,450 for the sedan. Mazda also has changed the prices on the rest of the 2012 Mazda3 lineup, which could confuse shoppers when confronted with two different prices for essentially the same model on dealer lots.
The SkyActive engine will be available on the Mazda3 i Touring sedan with either a six-speed manual ($18,450 sedan) or six-speed automatic transmission ($19,300 sedan) or the i Grand Touring trim with just the automatic transmission ($22,300 sedan and $22,800 hatchback). The i Grand Touring trim is new and includes a moonroof, power driver's seat, leather upholstery, heated front seats, a Bose 10-speaker audio system and a navigation system. The i Sport trims now come standard with remote keyless entry.
The sedan trims will achieve a maximum fuel-economy rating of 40 mpg highway, according to Mazda. The hatchback body style will achieve 39 mpg highway; there's no word on city or combined gas mileage estimates just yet. Hatchback models are now offered in more affordable i Touring and i Grand Touring trims with the SkyActive engine standard.
To make room for the new engine, Mazda has lowered the price of its base Mazda3 i SV sedan trim, which comes standard with the same 148 horsepower 2.0-liter engine found in the current model with a five-speed manual, to $15,200 from $15,800. An automatic option starts at $16,845. All pricing excludes a $795 destination fee ($840 in Alaska).
The 2012s should go on sale later this fall. Continue reading below for more pricing details:
2012 Mazda3 pricing (former 2012 pricing)
2012 Mada3 sedan
i SV (manual): $15,200 ($15,800)
i Sport (manual): $16,845 ($16,705)
i Sport (automatic): $17,695 ($17,505)
i Touring SkyActive (manual): $18,450 ($18,100)
i Touring SkyActive (automatic): $19,300 ($18,900)
i Grand Touring SkyActive (automatic): $22,300 (new)
s Touring (manual) $21,300 ($20,700)
s Touring (automatic): $22,100 ($21,500)
s Grand Touring (manual): $22,900 ($22,270)
s Grand Touring (automatic): $23,700 ($23,070)
2012 Mazda3 hatchback
i Touring SkyActive (manual): $18,950 (new)
i Touring SkyActive (automatic): $19,800 (new)
i Grand Touring SkyActive (automatic): $22,800 (new)
s Touring (manual) $21,800 ($21,200)
s Touring (automatic): $22,600 ($22,000)
s Grand Touring (manual): $23,400 ($22,770)
s Grand Touring (automatic): $24,200 ($23,570)