Next Ford Escape to Boost Mileage Without Hybrid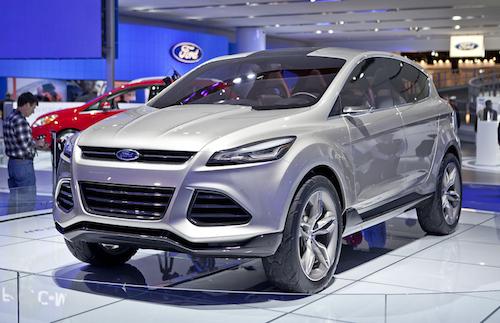 The next-generation Ford Escape compact SUV will receive two new turbo engines along with a more traditional 2.5-liter four-cylinder when it goes on sale next year, Ford announced today. A photo of the Ford Vertrek concept (above) is rumored to be the design inspiration for the next Escape.
A new turbocharged 1.6-liter EcoBoost engine will be the most efficient. The company says the next Escape's highway mileage will surpass the current Escape Hybrid's 31 mpg highway. If the next-gen reaches just 32 mpg highway that would be a 14% boost over the current 2.5-liter four-cylinder gas engine's highway rating of 28 mpg. A 2.0-liter Ecoboost four-cylinder will likely top the range promising V-6 power since there will be no V-6 option.
What happens to the next-generation Escape Hybrid? It doesn't exist.
Instead, the future of that powertrain will reside only in the C-Max Hybrid. The small van has been shuffled around Ford's lineup since its U.S. debut last year. Originally, a seven-passenger version with gasoline engine was the planned entry-level trim. That was scrapped. Now, a five-passenger hybrid will be available. The C-Max Hybrid will get 25% better fuel economy than the outgoing Escape Hybrid. If that's accurate, its combined mileage would be 40 mpg. Toyota's new 2012 Prius V is rated at 42 mpg combined.
A plug-in hybrid version of the C-Max called the C-Max Energi also will go on sale next year.
The new Escape will debut at the Los Angeles Auto Show in November.