Oprah VW Beetle Giveaway Finally Delivers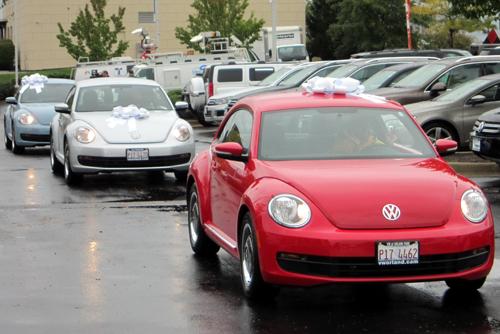 What's the nicest gift you've given your mother? Jewelry on her birthday? Flowers on Mother's Day?
Seventy year-old Jewel Baker just got the keys to a 2012 Volkswagen Beetle.
Baker, of Olympia Fields, Ill., won one of 271 redesigned Volkswagen Beetles that Oprah Winfrey gave away during the second of two "My Favorite Things" episodes, which aired last November. But she never attended the filming.
Baker's son, Robin, accompanied his wife, Latrice, after the show selected her alongside other superfans and community do-gooders. Robin and Latrice each won a car, part of the audiences' haul of 20 gifts apiece bequeathed during one of the final tapings of "The Oprah Winfrey Show." That audience numbered 276, all getting a new Beetle. The younger Bakers took one, and Jewel got the other.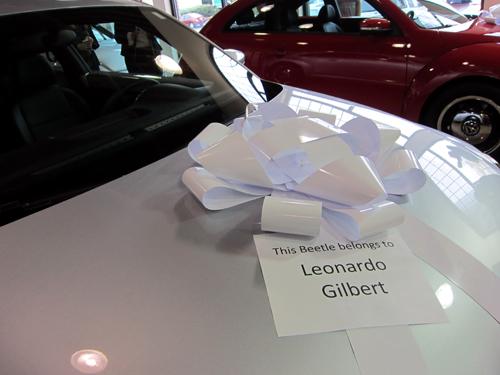 "When you get old enough, you never know how much stress you put your mom through," said Robin Baker, 41. "The best part of this was seeing my mom come [to the dealership] and find it."
Volkswagen is disbursing all the Beetles in the coming days at 126 of its U.S. stores. Jewel Baker was among 21 Chicago-area residents — the biggest concentration nationwide — to receive their 2012 Beetles at an Orland Park, Ill., Volkswagen dealership. VW of America CEO Jonathan Browning presented keys to all 21 recipients. It's not the first time Oprah has given away cars, but it was a huge coup for the marketing folks at Volkswagen.
Taxes paid
In 2004, Oprah's Pontiac G6 giveaway made headlines but stuck winners with as much as $7,000 in gross income taxes, a common bane for game show winners. (We're playing tiny violins for you.) This time, Beetle winners got their cars virtually free: Sales and gross income tax, registration, license and destination fees were all paid for. The winners only needed to pay gas and insurance, dealer Ray Baldi said. The dealership didn't even peddle extended-service contracts. "We didn't want to push that" on the winners, Baldi said. The dealership didn't sell any apparent accessories, either.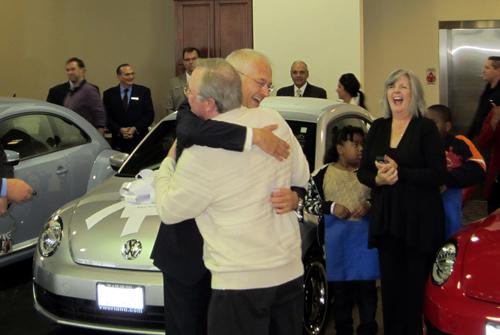 All 21 cars were the same spec — a base 2.5-liter automatic model, whose standard features include 17-inch alloy wheels, Bluetooth and heated leatherette seats. It retails for about $22,000. As cars streamed out of the parking lot, the only request was optional: Gee, won't you service the car back here?
"A little more masculine"
Winners chose from four colors: silver, red, yellow or light blue. Leonardo Gilbert, a 52-year-old Chicago minister selected to the show for his community work, called his silver car "definitely manly." Last year, before the redesigned car broke press, Winfrey drove out on the stage in a prior-generation (New) Beetle — she actually owned one to announce the giveaway — and Gilbert wondered if he really wanted a Beetle.
"My perception was it was just a nice car for ladies to get around in," Gilbert said. "But this perception is a little more masculine."
Ken Nix, also of Olympia Fields, called the Beetle "much sportier" than before. The 58-year-old attorney won a car when he attended the show with his wife, Jane, who is an Oprah devotee for most of the show's 25-year history. Hers is light blue; his, like Gilbert's, is silver.
Ken Nix plans to sell his current car, a Chevrolet Caprice. He has little experience with Volkswagens other than traveling around Illinois in the 1970s in his friend's first-gen Beetle. Gilbert plans to keep his BMW 7 Series alongside the VW.
It's a unique exposure opportunity for the brand — to men, no less.
But make no mistake: The Beetle will still appeal to women — Oprah's target market — aplenty. Winfrey called it "powerful, sophisticated, sexy." Fifty-five-year-old Jane Nix, an art teacher, called it "totally retro." And Gilbert laughs that his wife, Brenda, has told him she'll drive it if he doesn't.