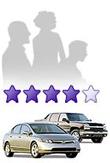 "ClaytonS" from Cheyenne, Wyo., so far has no regrets with his 1-month-old 2012 Kia Sedona EX minivan. The reader gives kudos to the Sedona for its powerful engine and quiet ride, as well as its unexpected convenience and safety features for the price, like a backup camera. Continue reading the full review to find out more. Once you're done, write a review about your own car here.
"I bought my 2012 Kia Sedona one month ago. The day after I bought it, I took it to Rocky Mountain National Park in Colorado. The vehicle had plenty of power to maintain the elevation increase, and the handling around curves and corners was superb. The quietness of the interior is excellent, and the design is great, too. I would have liked to see a better center console in the front, but with the extra features I got (auto-adjusting pedals, seats and side view mirrors; backup camera system; navigation system; heated leather seats etc.), I can overlook the minor stuff.
"The van is extremely roomy for the kids, and the third-row seats fold all the way into the floor, which is excellent for hauling items. The captain's chairs are great for the kids, and I really like how they sit up high. The auto-sliding side doors are great, and the auto-lifting hatch is nice also. Another nice touch is the ability to disable the motors in the sliding doors if you need to, simply by a push of a button. The sunroof is a wonderful touch for the winding trips through the mountains.
"The trim package on the EX is very eye catching. I also like the fact that the Sedona has a 3,100-pound towing capacity on it; now I can take my boat to the lakes and when I get tired, I can resort to the van for a nice nap. The power of the van is great; I really like the pick-up speed it has when entering onto interstates or just traveling. I have the peace of mind knowing that I have the 10-year/100,000-mile bumper-to-bumper warranty also. I paid the little extra for it, but I'm glad I did, just in case I need it one day.
"Overall, I would recommend this vehicle to anyone with a moderate family lifestyle and who wants comfort, power, beauty and adventure."