Smartphone on Your Dashboard? Don't Count On It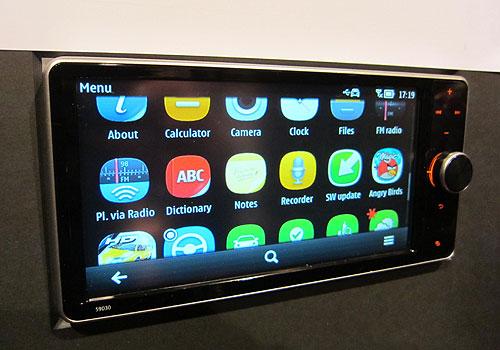 I'm staring at a dashboard display that's been removed from a car and mounted on a table for journalists, investors and engineers to sample. On it is an enlarged version of a Samsung smartphone home-screen, plugged right into the "car." There are applications aplenty, with touch-screen dragging, maps, email and more. I surf the web to CNN.com. The guy after me boots up Angry Birds and takes a flick. Wood pillars splinter and green pigs disintegrate.
Is there a day when you'll park your car, and all of this could happen on its dashboard? Yes. Is that what most consumers will choose to do? Probably not.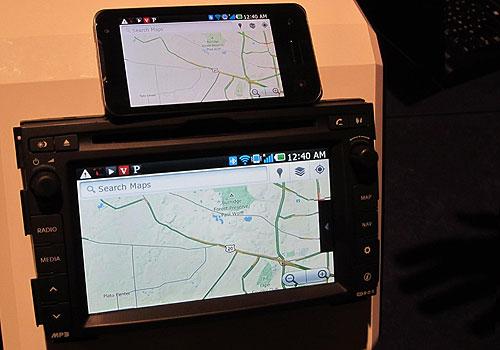 The Car Connectivity Consortium is rolling out MirrorLink, a system that could turn a dashboard display into a larger version of your smartphone. The consortium represents more than 50 companies, with carmakers such as GM, Toyota, Hyundai and Volkswagen joining electronics companies like Sony, Panasonic, LG, Motorola and Samsung.
Why would anyone want that? Because phone technology development moves forward at a much faster pace than autos. On average, people hold onto their new cars from more than 5 years, consulting firm R.L. Polk & Co. reports. That's more than five times the average length of smartphone ownership, J.D. Power and Associates found last month. It's no surprise that development cycles for consumer electronics easily outpace cars. MirrorLink offers a way to keep current, with a better interface to boot.
Impressive possibilities
Take navigation apps. MirrorLink runs them through the car's GPS – a beefier module that's better positioned to receive satellite signals than your smartphone's GPS, says Kee Cheng, Nokia automotive manager. However, what drivers see is the latest navigation app, with usability and graphics that are just months — not years — old. It's a marriage of better hardware and more current software, with a larger screen than any smartphone could hope for, and one that's out of the driver's hands.
Compatible phones launched in Europe weeks ago, with an aftermarket Alpine unit — the ICS-X8 — hitting European retailers next month. It runs MirrorLink on Nokia smartphones, with nine compatible phones coming in the not-too-distant future. LG engineer Jungwoo Kim says the U.S. will see MirrorLink-compatible phones in the next year.
But wait, there's more, says Antti Aumo, vice president of global solutions at Ixonos, a Finland-based mobile developer. He suggests a typical day for tomorrow's integrated car: Head out of the driveway, and your car accesses your smartphone's calendar to navigate to your 9 a.m. off-site meeting. En route, it pipes Facebook status updates through the car's speakers or plays songs suggested by friends. At day's end, the car determines through your Foursquare account that a friend is at a nearby coffee shop. The system asks if you want to meet him there and sends a text message from your smartphone.
The whole thing smacks of automotive utopia — or HAL 9000 madness. (Then again, so does Apple's Siri.) Execution will be key, and so will the response from federal regulators. After all, National Highway Traffic Safety Administration chief David Strickland told a telematics conference last June he's "not in the business of helping people tweet better ... [or] post on Facebook better."
Naturally, consortium officials are quick to reference safety. Of the potential app integration, the vast majority would be locked out while you drive. So, there's no tweeting, Angry Birding or Facebooking when merging onto the freeway.
Consistency vs. Usability
Given how many apps would be locked out, what's the point of having a plus-sized smartphone in your car? Mark Boyadjis, senior automotive analyst at electronics consultancy IHS iSuppli, says having every app on your phone isn't important, but the interface is.
"The point is that you are familiar with what you use every day, all day, on your smartphone," Boyadjis said. "That familiarity, in theory, would be nice to have [on the dashboard] because you can instantly use your applications, your contacts, your messaging, your email, et cetera, all through an interface in your car."
Boyadjis adds that drivers are accustomed to the way their phones work, and MirrorLink transfers that interface to the dashboard more directly than, say, Toyota's Entune or BMW's ConnectedDrive.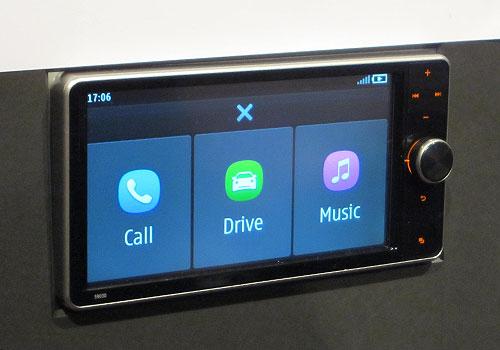 That introduces another wrinkle. Consistency and common car ergonomics seem at odds: Touch-screen smartphones, which deliver higher satisfaction than keyboard phones, J.D. Power's 2011 smartphone survey found, convert easily enough to a touch-screen navigation unit. But what about the rotary knobs like those on BMW's iDrive?
"I have steering-wheel controls that can't work with my phone," Boyardis says. But they can work through an interface, and the infrastructure already exists, at least for certain apps. Take Pandora: Rating songs, seeing album artwork and skipping to the next track can translate easily enough to a dash display, regardless of interface. You can easily thumb through Pandora with a touch-screen, a knob or steering-wheel controls, which is why BMW's ConnectedDrive and Toyota's Entune both feature it.
"Consumers value simplicity over performance, even though that's not necessarily what they tell you," says Paul Hochman, Gear and Technology editor for NBC's "Today Show." "All that handheld power, along with everyone's Facebook, Tumblr, Pandora and Foursquare addictions creates a problem. ... Nobody wants to learn something twice."