Stay Safe While Trick-or-Treating This Halloween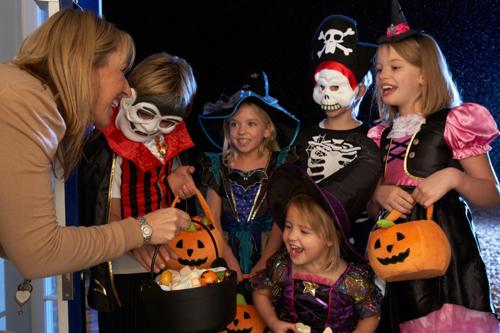 Halloween is filled with fun for children and adults, but it can be filled with frights, especially from drivers not accustomed to so much foot traffic. It's important for both drivers and trick-or-treaters to be alert. Twice as many kids are killed while walking on Halloween compared to other days, according to Safe Kids USA, a nonprofit organization focused on eliminating preventable injuries.
If you're going to driving during trick-or-treat hours, remember to slow down and stay alert. Turn your car's headlight on early in the day, and make sure to keep in-car distractions to a minimum so you can concentrate on the road and any trick-or-treaters in the area.
To keep your witches and goblins safe this Halloween, we've put together some trick-or-treating tips:
Before you go
Reflective tape: Apply this tape to the front and back of your child's costume to increase visibility to drivers. Also consider sticking it to your child's jacket, even if you'll likely carry it for most of the evening.
Glow sticks: Who doesn't love a glow stick? Affix glow sticks to the kids' costumes or look for glow necklaces or bracelets.
Flashlights: Parents may opt to skip the glow sticks and give kids flashlights instead. Make sure the flashlights have fresh batteries before heading out. Parents should carry flashlights as well or those cool new battery-operated lanterns.
Costumes: Ill-fitting costumes and masks can increase the chance of a child tripping over them. Make sure costumes aren't too long and masks fit properly, increasing their visibility. Or skip the mask and use nontoxic face paint instead.
While you're out
Adult chaperones: Adults should always accompany young trick-or-treaters. Older kids should tell parents the route they'll be trick-or-treating, according to the American Academy of Pediatricians.
Group think: Make sure your trick-or-treaters stay together in the group. They're going to be excited – really, really excited – and want to run from house to house, so this could be difficult to enforce.
Sidewalks: Make sure trick-or-treaters use sidewalks to get from house to house. Don't let them cut across yards, driveways or alleys to get to the next house. If there are no sidewalks in your neighborhood, walk facing traffic as far to the left of the road as possible.
Crosswalks: Use them. Don't allow trick-or-treaters to cross the street at a driveway or from between parked cars where it can be difficult for drivers to see them. Also, don't assume that your group of trick-or-treaters has the right-of-way in a crosswalk. While one driver may stop for you, the next might not see your group in time.
Once you get home, it's time to eat all of your kids' rejected candy – after you've checked your child's stash for any signs of tampering. You deserve it after successfully navigating the streets on Halloween.