2011 L.A. Auto Show Winners and Losers: Production Cars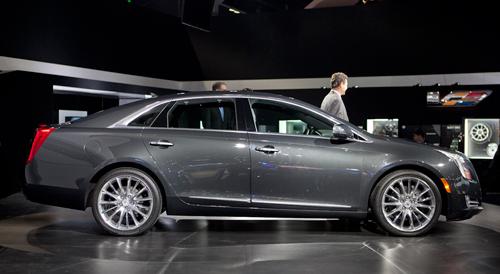 This year's L.A. Auto Show will make attendees' heads spin in terms of all the new production cars on display. Automakers are rolling out important cars from full-size luxury sedans to the smallest of compact cars. Actually, one company did both. How did the automakers execute these ideas in their final form, which will hit car dealerships within the next year? Cars.com editors Joe Wiesenfelder, David Thomas, Kelsey Mays and Mike Hanley weigh in.
You can also read our thoughts on L.A.'s Concept Cars
.
2013 Cadillac XTS (above)
Joe Wiesenfelder: Winner
There's much to like here: lots of space, a high-quality interior and what appears to be a smart new interface — though I insist that physical buttons and knobs needn't be banished for touch-sensitive panels. True, the front-drive platform deviates from Cadillac's rear-wheel-drive push, but frankly, few of the full-size rear-wheel-drive competitors are engaging to drive either.
Mike Hanley: Loser
Despite the XTS' compelling technology, I'm underwhelmed by the design. Cadillac's rear-wheel-drive CTS sedan has great proportions, but the brand's creased styling looks wrong on the XTS, especially around its tall rear end. It makes me wonder what kind of design a rear-wheel-drive platform would have yielded.
Kelsey Mays: Loser
Like Mike said, the XTS' proportions didn't wow me. The face is too tall and the tail too stubby. The CTS remains the winner of Cadillac's edgy styling; the XTS feels too bloated. The interior has Cadillac's usual allure, though I agree with Joe's touch-panel sentiments.
David Thomas: Winner
Strange, but I find this to be the most successful car Cadillac has put out in terms of its edgy styling, with the CTS coupe being close behind it. The CTS coupe isn't practical, but the XTS is. The interior is also worlds better than what Cadillac — or Lincoln, or Acura, or Infiniti or Lexus — has been producing lately. That should make it a winner with buyers in this class.
2013 Chevrolet Camaro ZL1 Convertible
JW: Winner
I'm not the biggest Camaro fan, partly because they're too heavy. As I said of the ZL1 coupe, big power and chassis tweaks should help. It will help even more in the heavier-still convertible version. This is more a practical endorsement than an impassioned one, but an endorsement nonetheless.
MH: Winner
I haven't been a fan of the Camaro's driving dynamics, but I've liked its looks from the beginning, especially the ZL1's. The convertible version does nothing to diminish the car's sinister styling, which enhances the Camaro's aggressiveness without going overboard.
KM: Winner
By dint of a drop-top, the Camaro convertible eliminates a lot of the coupe's visibility issues — though you have to have to top down to achieve that. Who cares that Ford threw the gauntlet with a 650-horsepower Shelby? Anyone who thinks 580 hp is too few should have their head checked.
DT: Loser
I didn't think the visual cues of this high-power Camaro were as good as those on the Shelby Mustang in coupe form last April in New York City, and I feel the same way about the droptop now. The power difference between the two doesn't really matter to me either — not many people will be able to harness 580 horses, let alone 650. So to me, they're both overkill. Just give me a nice black SS for my garage and the extra $20,000 for a Chevy Cruze to commute in.
2013 Chevrolet Spark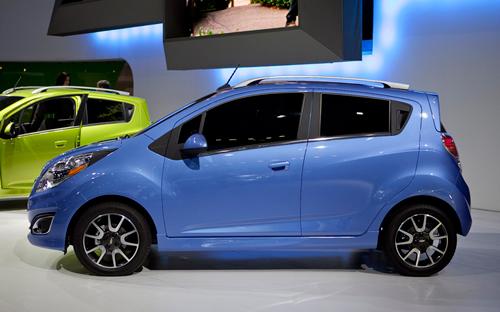 JW: Loser
The interior quality isn't good enough, even for a microcar. But beyond that, I think the demand for such small-fries is overestimated. You can get comparable mileage in larger, higher-quality cars from Chevy and others. I don't see Chevy pricing this thing cheap enough to make it sell.
MH: Loser
In an era of improving cabin quality in even the smallest cars, the Spark stands as a disappointment. The hatchback has perhaps the worst climate control knobs around, and the seats look like they're finished in an industrial vinyl. It's going to need a bargain-basement price tag to push aside all its interior-quality issues.
KM: Loser
What Mike and Joe said. The cargo area is tiny, and folding the rear seats flat is harder than watching "Transformers 2." Echoing Mike, the leatherette makes the Ford Fiesta's cowhide seem Bentley-esque. The problem is, the exterior on the auto show's 2LT models is pretty upscale, so you expect a lot from within.
DT: Winner
I swear I'm not trying to be difficult here, but I do see the value in the Spark and that value is cheapness. Without its price or mileage numbers I think it's hard to give any kind of verdict, but this is what economy cars were like 10 years ago and no one seemed to mind much. This car has 10 airbags to make it seem safer, though. When I sat in it, I actually had room in the backseat, and it didn't feel much more cramped for the driver than the Sonic.
2012 Fiat 500 Abarth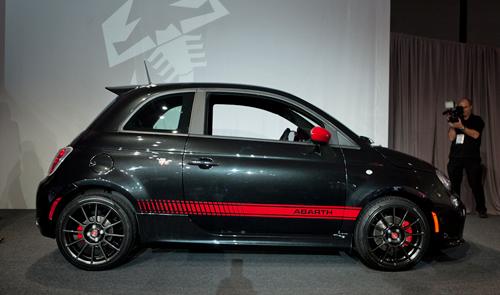 JW: Loser
The 500 isn't selling particularly well, and I don't think the performance upgrades on the Abarth version will be enough to attract significantly more buyers (read: males). Driving it might change my mind, but at a glance, it's forgettable.
MH: Winner
Like the Mini Cooper, the Fiat 500 represents a good starting point for a performance version, and Fiat seemed to check all the right boxes with the Abarth version, which includes a mix of styling and suspension changes as well as a welcome power boost courtesy of a turbocharged engine.
KM: Winner
The Abarth takes the 500's decent balance and adds power; it should also quell the 500's lean-happy antics. The cabin gets some nice upgrades, though the sport seats feel no more comfortable than the 500's lumpy chairs. I hope Fiat gives the Abarth a better value proposition than the $4,000-more 500c, though.
DT: Loser
I'm with Joe on this one. The Fiat 500 makes the most sense as an affordable, stylish small car, which is what the market is asking for. If it's still not selling in this economic climate, a hot-rodded version isn't going to help.
---
2013 Ford Escape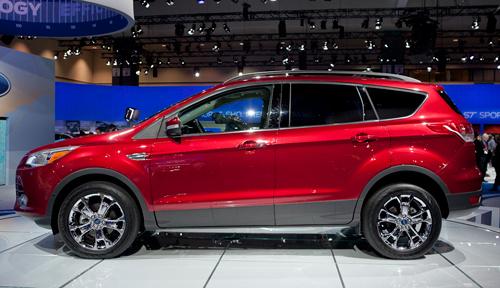 JW: Winner
To be blunt, vehicles with good reputations continue to sell well even when they've become mediocre or worse (Toyota Corolla). Considering that the aged current Escape, which still has its high points, remains a top seller, the 2013's many improvements spell winner.
MH: Winner
I'm not thrilled with the new Escape's design — Ford's small-car styling cues don't translate that well to a small crossover — but the rest of it is a significant leap over the prior generation. The gas mileage is a welcome improvement, and Ford was wise to give the Escape a conventional six-speed automatic as opposed to its finicky dual-clutch transmission.
KM: Winner
When Ford introduced the Vertrek concept, on which the Escape originated, I worried the swoopy lines would sacrifice visibility. Not the case: Large side windows and usable rear-quarter glass makes the Escape's sightlines viable. Good interior quality, MyFord Touch with physical climate dials and a big bump in gas mileage make it a winner.
DT: Loser
Of the three new compact crossovers introduced at this auto show, the Escape falls in the middle, but it loses for two significant reasons. The first is it's as cramped for the driver as the Focus compact sedan. Secondly, the rear seats are ridiculously heavy when trying to put them back into place and there is no quick-fold feature from the cargo area like in the Mazda CX-5 and Honda CR-V. It could be fun to drive, but these vehicles are about practicality and I think it loses there. Oh, and it's kind of ugly.
2013 Ford Mustang / Shelby GT500
JW: Winner
The regular Mustang's upgrades stay true to the design, repair two flaws (see my Up Close) and add undeniably valuable features like xenon high-intensity-discharge headlights and LED taillights. The Shelby GT500's 650 horsepower impresses, but a full retuning is what the whole car needed, and that's what it got.
MH: Loser
Formidable. Prodigious. Insane. All of those words describe the Shelby GT500's 650-hp output, but I'm more focused on the relatively modest updates to the regular Mustang, and they didn't make much of an impact.
KM: Winner
Yeah, the Shelby GT500 is over the top, and I hope it handles better than last year's unpredictable Shelby. But Ford's doing the right thing updating its popular Mustang every year or two. It keeps the kids coming back.
DT: Winner
I didn't want the 2012 Mustang Boss 302 to leave my driveway, so why wouldn't I want a slightly more aggressive looking lineup of Mustangs in the same way? The interior is what needs the most upgrading and it didn't receive any here unfortunately. But the Mustang is about a muscle car "experience," and it always delivers there.
2012 Honda CR-V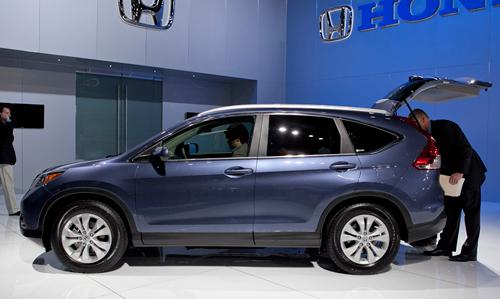 JW: Winner
Honda has deservedly taken lumps recently for questionable direction, strange exterior styling and stunted interior quality. None of that's really a problem here. Managing Editor David Thomas already reviewed it, and he was duly impressed.
MH: Loser
I have to disagree. Honda considerably improved the seat-folding design of the CR-V's backseat, but the rest of the design updates — both inside and out — are incremental at best. If the CR-V expects to continue to be a leader in this segment, it needs to do more.
KM: Winner
Interior quality could improve — the Mazda CX-5 and Ford Escape beat the CR-V's quality — but the car still has good utility and upright, roomy seats that so many crossovers miss in the name of so-called cockpit layouts. Bravo to Honda for making the one-touch folding seats standard.
DT: Winner
Yap, Yap, Yap. Really, interior quality? There is nothing wrong with the CR-V's quality. I was so happy to get in the CX-5 and Escape to solidify my thinking that in terms of practicality, space and cargo room, and height, the CR-V demolishes the other two. They'll sell a lot of Escapes on tech wizardry and styling, but the CR-V is the biggest no-brainer in the segment.
2013 Honda Fit EV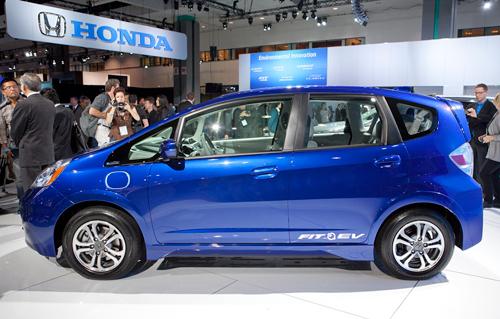 JW: Winner
I called this one a loser a year ago because it wasn't far enough along. Now it's essentially done, the specs look good and it's another pure EV that's a "real" car. I like the remote control; our Chevy Volt proved it's handy to be able to pre-condition the cabin remotely without relying on the smartphone application or website the Nissan Leaf requires.
MH: Winner
The loss of Honda's versatile Magic Seat with the Fit's metamorphosis into an electric car is disappointing, but the relatively quick, three-hour recharging time on a 240-volt system makes the prospect of an electric car more realistic for more people.
KM: Winner
Agreed. Quicker charging, remote pre-conditioning, a decent 76 miles' range. The Fit has always handled well, and the EV's instant go — plus a lower center of gravity, in all likelihood — should improve things even more.
DT: Winner
We're finally all in agreement and it's about the Fit EV? Wow. If it drives and works anything like our long-term Leaf, then the Fit EV will be a success. The Fit already has a well-thought out interior and voluminous cargo area that can afford to be limited here by a huge, honking battery. Plus, I wouldn't mind adding a little more weight for a lower center of gravity on the Fit.
2012 Hyundai Azera
JW: Winner
I'm still waiting for Hyundai to do something outright wrong. The Azera isn't it. The car's execution assuages any question I had about whether this car needed to remain in the lineup. It will find its buyers — particularly those who want a high-quality interior and still value a V-6.
MH: Winner
There's definitely some Sonata influence in the Azera's design, but I like the look of this big sedan more, especially in back where it pulls off the short trunk lid look much better than the Cadillac XTS. Add a spacious backseat and a nicely styled cabin and the hits keep coming at Hyundai.
KM: Loser
The Azera is a fine car, but I think too many people will mistake it for a Sonata. I disagree with Joe: Sales for the Toyota Avalon, Ford Taurus and Chrysler 300 are sliding these days, and the Genesis sedan already competes here. The last Azera was a blip on the radar screen. I question whether its follow-up was worth the commitment, but I'd like to see Hyundai prove me wrong.
DT: Winner
I second both Joe and Mike's points on the Azera. It does have the right mix of near-premium feel that I thought Toyota actually did right in the new Avalon and Ford missed in the Taurus. Without even moving, the car feels incredibly substantial from the driver's seat. It's almost like I can tell exactly how it'll drive when it hits the street; like a more comfortable Sonata with more power.
2013 Infiniti JX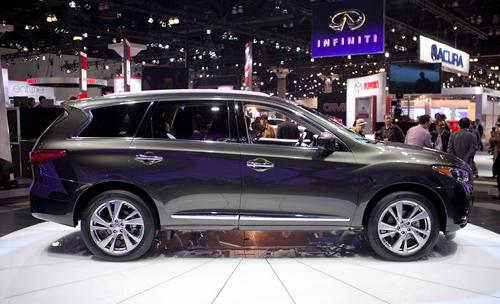 JW: Winner
Infiniti designs can go either way, and fortunately this one didn't go the way of the bizarro QX56. It looks good, and the interior is nicely executed. The critical sliding second row is present, as is a neat provision whereby an attached child-safety seat changes the way the seat moves forward for third-row access. This way, the child-safety seat needn't be removed before you can get past.
MH: Loser
I figured this crossover would be a slam dunk for Infiniti, seeing as it's had nothing until now to offer shoppers searching for a three-row luxury crossover. Then I sat in the second row and everything changed. It's hard to understand how something so big could have such a snug, uncomfortable second-row bench seat. It's a shortcoming that weighs heavily on a model that needs to be practical as well as luxurious.
KM: Loser
The JX is a sharp crossover, and it's about time Infiniti put out a Lexus RX/Acura MDX fighter. But child-seat slider notwithstanding, the second row needs a lot of work for adult-sized comfort.
DT: Winner
Uh, have you guys sat in an MDX lately? That is snug. The Infiniti JX is spacious enough for this class without approaching the mighty Lincoln MKT/Ford Flex berths. The company also gets the mix of luxury feel with an affordable sticker price so right that it's hard to argue with the JX. Unless your name is Mike or Kelsey it seems. I'm also a sucker for all the Infiniti designs, so the JX was an easy pill to swallow in the looks department, too.
2013 Mazda CX-5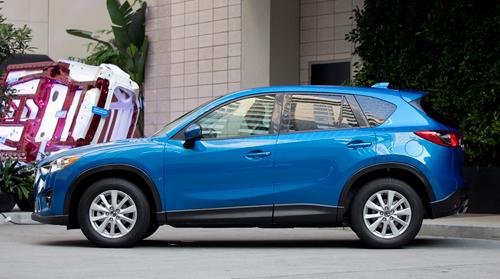 JW: Winner
It's a similar story to the 2013 Ford Escape. The previous generation (called the Tribute in this case) was around a long, long time. The CX-5 is fully modernized and features the best of Mazda design without the worst (smiley grille). I prefer the interior quality over the Escape's.
MH: Winner
The CX-5 represents a welcome evolution of Mazda's design language, and it impresses with both its interior quality and roominess. It's also efficient. The CX-5 does a lot of things right, and it could get Mazda back in the small crossover game.
KM: Winner
Surprising utility, outstanding quality and outsized efficiency. Mazda can probably do away with the CX-7 now. The CX-5 should outsell the 7 — and the Tribute — several times over, which is what Mazda needs.
DT: Winner
The CX-5 has quick-fold rear seats, but like the Escape, good luck putting them back into place. It also bests the Escape in terms of feeling more spacious for the driver, but I'd argue that its interior is a step behind the Escape's. Sorry, Joe. I'd still take the CR-V, but the CX-5 is certainly the sharpest looking of the bunch.
2012 Porsche 911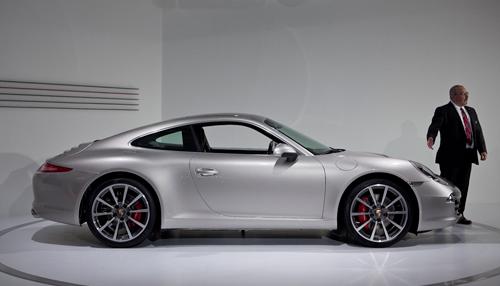 JW: Winner
I was prepared to declare this one a loser and incur the wrath of auto enthusiasts the world over, because I'm tired of the same old design, generation after generation. Then I saw the 2012. The rear-end treatment is actually enough of a departure, with strong haunches. It's safe for me to go out during daylight.
MH: Winner
I agree. The new 911's overhangs seem a little long, but I like what Porsche has done to the tail, giving it a shape that's quite a bit different. The premium interior is worthy of the sports car's steep price, but I hope the fuel-saving measures employed on this car don't muddy the driving experience.
KM: Winner
The new 911 should draw even more love. Cabin materials improve, though Porsche's severe dash contour has become no gentler. The 911 remains a serious sports car, and the seven-speed manual shows further investment in a transmission most automakers are dropping altogether.
DT: Winner
I didn't see this one somehow during my travels, but it's a Porsche 911. How does it lose?
2013 Volkswagen CC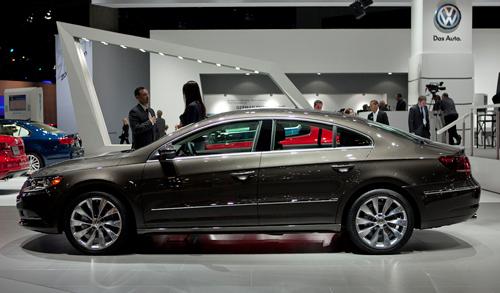 JW: Winner
I had no problem with the previous generation's design, but I understand VW's desire to bring the CC more in line with its family styling direction. It's still sharp and lush inside, and now it can seat five rather than four — not in great comfort, but it'll work in a pinch.
MH: Winner
The CC's revised front and rear styling enhances the car's already sporty lines, and I applaud the decision to give it five seats by adding a rear bench. Sometimes it doesn't take much to dramatically alter a car's appearance for the better; the CC is a case in point.
KM: Winner
What they said. Another seat and styling that fits with the brand. Where the Jetta and Passat have traveled down-market, the CC still gives VW a chance to load up a sedan with all the bells and whistles.
DT: Loser
I must have missed the upscale interior you guys are talking about. The CC still has the same vinyl seats I loathe. I've spent lots of seat time in the new Passat and don't see why anyone would pick the CC over it. Surprisingly, the styling retrofit does work, but the car just doesn't make sense to me.