2011 Toyota Sienna: Car Seat Check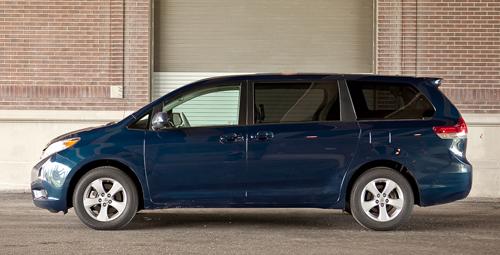 This Car Seat Check was originally published in June 2010 on MotherProof.com.
The Toyota Sienna has a new look for the 2011 model year that features a sleeker profile. While many parents will appreciate the redesign, they really want to know how well child-safety seats fit into this family hauler. The Sienna can accommodate seven or eight passengers depending on the seat configuration. Our test car could seat eight.
For the Car Seat Check, we use a rear-facing infant-safety seat, a convertible child-safety seat and a high-back booster seat, all made by Graco.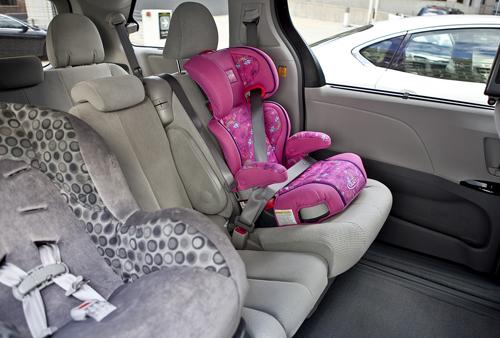 The front seats are adjusted to a comfortable position for a 6-foot driver and a 5-foot-8 passenger. The child seats are installed in the second row and, if available, third row. The booster seat sits behind the driver's seat, and the infant seat and convertible seats are installed behind the passenger seat.
Here's how the 2011 Sienna scored in Cars.com's Car Seat Check:
Latch system: The Sienna has three sets of Latch anchors: Two sets are in the second-row captain's chairs, and a third set is in the center position of the third row. The Latch anchors are buried, but the seat cushioning is soft enough to push out of the way. There's a tether anchor at the base of the back of each captain's chair, and the third row's tether anchor is at the base of the center position's seatback. It's a stretch to connect the tether to the anchor.
Booster seat: The high-back booster seat fit well in the second and third rows. The captain's chairs recline, which makes it easy to find a good fit for the booster's seatback. Kids should have no problems buckling up when sitting in the second row, thanks to the stable seat belt receptors. In the third row (photo above), the seat belt receptors are floppier and sit in recessed wells, which make it more difficult for kids to buckle up on their own.
Convertible child-safety seat: The second row slides forward and back, which creates plenty of room for a rear-facing convertible seat. The reclining seatbacks in the second row also make it simple to install a forward-facing convertible.
Rear-facing infant-safety seat: That sliding second row is a godsend when it comes to installing this long car seat.
Do two car seats fit? Yes
Do three car seats fit? Yes. This minivan can easily hold four car seats.