2012 Hyundai Azera at the 2011 L.A. Auto Show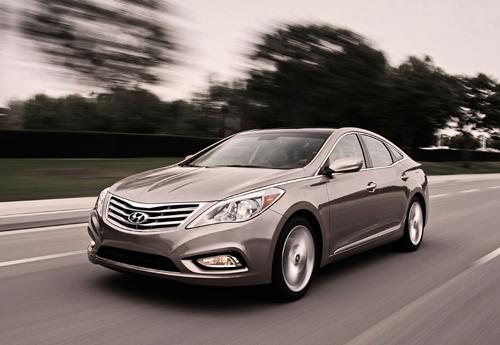 Competes with: Chrysler 300, Ford Taurus, Toyota Avalon
Looks like: A Sonata with a Jaguar XF tail
Drivetrain: 293-hp, 3.3-liter V-6 with six-speed automatic transmission; front-wheel drive
Hits dealerships: February 2012
Hyundai throws its hat back in the full-size sedan ring with a redesigned Azera. The first-generation car never made much of a sales dent against the Toyota Avalon, Chrysler 300 and Ford Taurus, but its successor boasts Sonata-like styling and better fuel efficiency. It hits Hyundai dealerships in February.
More 2011 L.A. Auto Show Coverage
The seventh car to adopt Hyundai's fluidic styling — the holdouts remain the Veracruz, Santa Fe and Genesis — the Azera looks like a supersized Sonata.
Roughly the same dimensions as its predecessor, the full-size sedan is 3.5 inches longer than the Sonata. A trim plate that says "Azera" joins the taillights, something the old car had, but the angles look far better, with hints of a Jaguar XF. Eighteen-inch wheels are standard, with 19s optional.
Inside, the dashboard's winged center stack echoes Hyundai's other recent interiors. The automaker says the Azera boasts more than 45 inches of front legroom and 40 inches of headroom — dimensions that lead the others, but numbers can mislead. Stay tuned for our up-close impressions on room later in the day from the show floor. Overall cabin volume matches the old Azera, which had room aplenty. Trunk volume, at 16.3 cubic feet, beats the Avalon and matches the 300. (The Taurus' dorm-room-size trunk still dominates all three.)
The Azera will come well-equipped. Heated front and rear seats, leather upholstery, power front seats, a navigation system and a backup camera will all be standard. Options include ventilated front seats, rear side-window sunshades and an Infinity stereo.
A direct-injection version of the 3.3-liter V-6 makes 293 horsepower and 255 pounds-feet of torque; last year's optional 3.8-liter V-6 is gone. With a standard six-speed automatic, the new Azera is expected to get an EPA mileage rating of 20/29 mpg city/highway, roughly matching overall mileage in the Avalon (20/29 mpg) and 300 (19/31 mpg) and beating the Taurus (18/28 mpg). Chrysler and Ford offer all-wheel drive in the segment; Hyundai and Toyota do not.
But Hyundai already has the Genesis, and traditional big sedans are declining as family cars like the Honda Accord and Volkswagen Passat boast plus-size cabins. Year-to-date sales for the Avalon, 300 and Taurus are down a combined 11.4%, and even in that crowd, the first Azera was a bit player. Its successor looks to bring a strong value proposition to the segment, but it has a long hill to climb before reaching mainstream. Given the sales tide, we wonder if the stream is even worth swimming.
Clicking on any image below will launch a larger photo gallery; you can browse through them by hitting the right and left arrow keys.