2012 Mini Cooper Roadster: First Look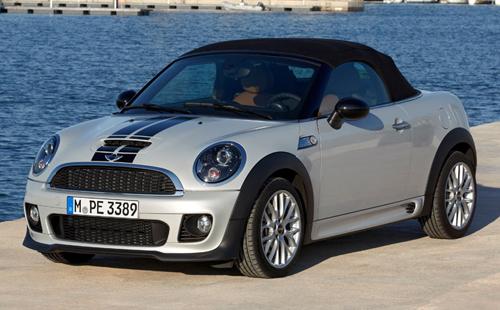 Competes with: Mazda MX-5 Miata
Looks like: Another Mini Cooper derivative, only smaller and with no top
Drivetrain: 121-hp four-cylinder; 181-hp, turbocharged four-cylinder; 208-hp, turbocharged four-cylinder; six-speed manual or six-speed automatic transmission
Hits dealerships: Early 2012
It's been a while since we last talked about the Mini Roadster, the soft-top convertible version of the upcoming Mini Coupe. It's been more than two years since a near-production-ready concept was shown to the world, but the model that will hit dealers is finally ready for prime time, says BMW, who owns the Mini brand.
As the Roadster name suggests, this model is strictly a two-seat convertible. It will debut at the 2012 Detroit auto show and will go on sale in early 2012.
The soft-top roof opens manually; Mini says the operating mechanism is "straightforward." Like the Coupe, there's extra cargo volume in the Roadster due to the absence of rear seating. The convertible has 8.5 cubic feet of cargo space, about 40% more than what's available in the regular Cooper convertible with the rear seats in the upright position.
When the model goes on sale, it will be offered in Cooper Roadster, Cooper S Roadster and John Cooper Works Roadster models — the same variants offered on the Cooper hardtop and Coupe. With the John Cooper Works version, a 208-horsepower, twin-scroll turbocharged engine can move the car from zero to 60 mph in 6.3 seconds, with a top speed of 147 mph, just a tad slower than the Coupe due to the extra weight. Fuel economy figures aren't available yet.
We'll have more info at the Detroit auto show, but for now, check out more photos below.