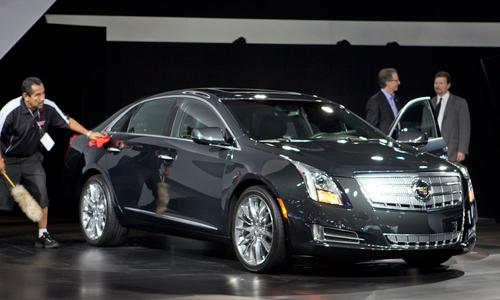 As you work your way up a luxury brand's sedan lineup, styling typically becomes more restrained, and that's true with the new Cadillac XTS full-size sedan ... overall. The signature shapes and design cues are there, but the only in-your-face element on the show car is the gigantic aluminum grille. (Wow, real aluminum!) Even for someone like me who likes Cadillac's bold grilles, this one's a bit much, but it's possible the show's bright lights are making it look more cartoonish against the charcoal-gray paint. Also, the aluminum grille comes only on the top Platinum trim level. Lower trims have a darker grille.
More 2011 L.A. Auto Show Coverage
Even apart from the front view, there's no mistaking the XTS for anything but a Cadillac. The three-dimensional vertical taillights hint at the tailfins of yesteryear. They're much better integrated than the SRX crossover's Spock-ear execution. Also evident is the CTS coupe influence on the rear end, which comes to a point in the center and is topped by a combination spoiler/center brake light.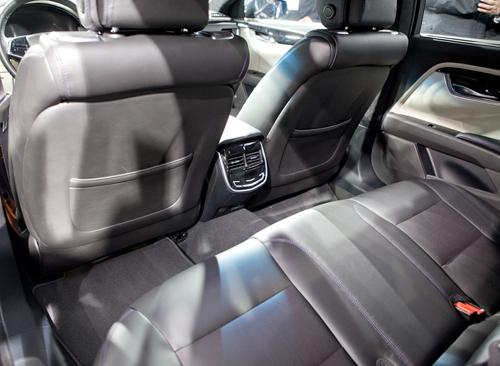 Cadillac points out that the car is roughly as large as midsize competitors on the outside, but as roomy as a full-size sedan inside. I agree, though it feels on smaller side of the full-size class. The backseat, though roomy, has a floor that's high enough to raise an adult's knees a bit. Although the all-wheel-drive car doesn't have a conventional rear-wheel-drive architecture underneath, the center floor hump is above ankle height — not the worst I've seen, but it definitely intrudes on your feet's personal space.

The interior looks terrific, as rich as you'd expect for a flagship luxury sedan. Forget about the SRX, whose materials we've criticized. Think instead of the CTS and take it up a couple of notches further.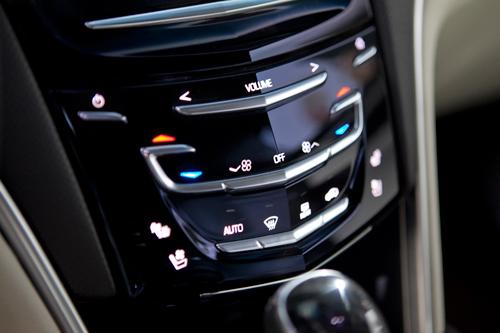 I took a quick poke at the new CUE (Cadillac User Experience) multimedia interface that provides haptic (tactile) feedback when you touch or drag on the touch-screen, as well as the buttons on the panel below it. Does it address one of the objections we've had to similar touch-sensitive control panels on the Chevrolet Volt and the MyFord Touch system? The short answer is "sort of." You feel a little pulse when your finger makes contact, but it's not so strong that I felt it every time.
Cadillac is still working to arrive at the best feedback level. Where I appreciate it more is on the touch-sensitive buttons rather than the touch-screen. It makes the system more functional; what it doesn't do is explain what the problem was with regular old buttons and knobs. ...
We'll spend more time with the CUE system's menus, features and configurable instrument panel and report on it separately soon.