2013 Ford Mustang Shelby GT500 at the 2011 L.A. Auto Show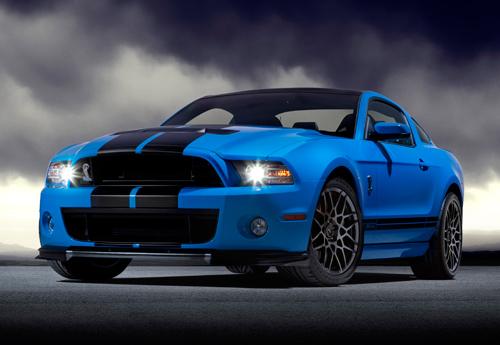 Competes with: Chevrolet Camaro ZL1, Dodge Challenger SRT8
Looks like: The Boss 302 was getting too much love
Drivetrain: 650-hp, supercharged 5.8-liter V-8 with six-speed manual transmission; rear-wheel drive
Hits dealerships: 2012
The Ford Mustang Boss 302 is so good, it's been stealing the Shelby GT500's thunder. What did the ultimate Mustang do for 2013? It came up with more thunder: 650 horsepower and 600 pounds-feet of torque from a new supercharged 5.8-liter V-8, which is good for a claimed 200 mph top speed. The outgoing model produced a "mere" 550 hp and 510 pounds-feet from its supercharged 5.4-liter V-8.
More 2011 L.A. Auto Show Coverage
Ford engineers emphasize that the new Shelby is more than just a larger engine — the whole car has been revised to provide the balanced performance for which the Boss 302 has been celebrated.
To wit: The supercharger is larger yet more efficient; the intercooler and cooling fan are larger; and the camshaft profiles have been modified. The six-speed manual transmission's gear ratios, bearings and housing are customized for the new setup. The new dual-disc clutch has higher torque and rpm limits, and it drives a limited-slip differential through a new carbon-fiber driveshaft. The dual exhaust is new as well.
The Brembo brakes are also upgraded with new six-piston front calipers, and larger rotors and pads all around.
Whereas the Boss 302 has manually adjustable shock absorber rates, the GT500 offers on-the-fly changes with a Bilstein adaptive suspension, which comes in the optional Performance Package. A dashboard button selects between Normal and Sport modes, improving the car's day-to-day comfort without sacrificing track performance. The package also includes an upgraded, electronically controlled Torsen limited-slip differential.
An additional Track Package, which requires the Performance Package, adds cooling provisions for the engine oil, transmission and rear diff.
Despite all the upgrades under the GT500's skin, the exterior changes are few. To maximize stability at high speeds, Ford modified the car's front splitter and aspects of the nose. The alloy wheels — with diameters measuring 19 inches in front and 20 inches in the rear — are new for 2013, with distinct designs for the option packages. Summer performance tires are standard.
While it may seem like the same car to attendees of the L.A. Auto Show, the 650 hp figure is a showstopper all on its own.
Clicking on any image below will launch a larger photo gallery; you can browse through them by hitting the right and left arrow keys.