2013 Infiniti JX: Up Close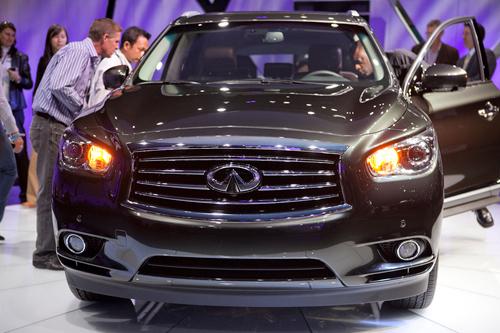 The new Infiniti JX is more proof that it's unwise to judge a car's styling by photos alone. The three-row crossover's FX-inspired grille seemed especially prominent in snapshots, but it doesn't seem excessive in person. The JX doesn't pretend to be something it's not, with a low stance and not a lot of clearance under the front bumper that precludes off-roading, something most owners wouldn't consider anyway.
More 2011 L.A. Auto Show Coverage
The back of the JX has a smooth look; even the bumper doesn't stick out that far. Like the Lexus RX, the rear window is angled forward. The design enhances the JX's profile, but it comes at the expense of usable cargo space. It looks like there's only room for a few small suitcases behind the third row.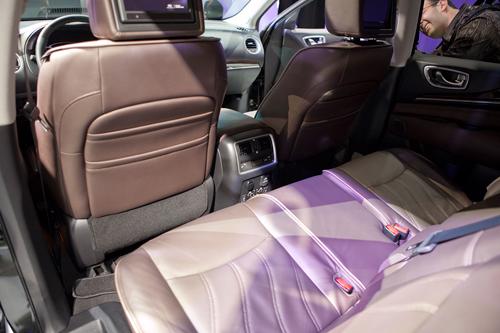 There is room for seven people in the JX, but I was disappointed that the second row wasn't more comfortable considering this crossover's considerable size. The second row can slide more than 5 inches, but even with the seat all the way back, I wasn't comfortable. The problem is the relationship of the seat cushion to the floor: There isn't a traditional footwell, so you sit with your knees in an uncomfortably elevated position. I'm 6-foot-1, so comfort would likely be better for shorter passengers.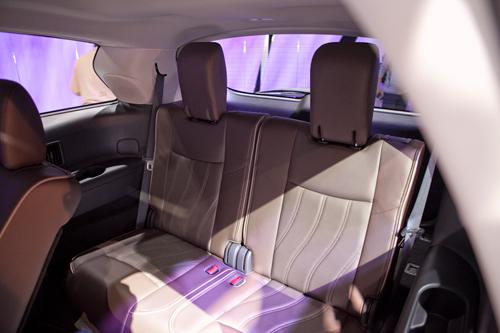 The second row moves forward and out of the way to make a reasonable walk-through to the third row, and even with the second row all the way back, it doesn't completely eliminate third-row legroom, which is a plus. My head brushed the headliner when I sat in the third row, but the reclining the backrest provided a little more headroom. You sit with your knees elevated, but here it's a little more expected.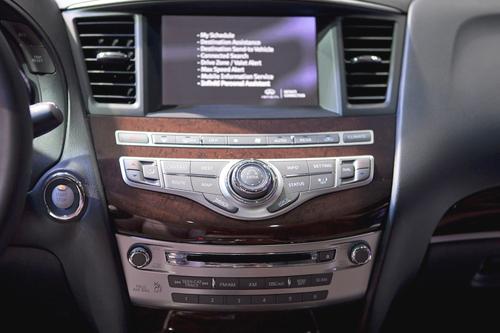 The JX's high-mounted dash screen, center control panel and center console resemble those in Infiniti's M sedan. There are soft-touch surfaces where they matter — like on the upper sections of the doors — but the top of the dash is, surprisingly, finished in hard plastic that looked a little shiny under the auto show lights. Knowing the automotive press, it's a decision that's going to be roundly criticized even though it's a surface you normally don't touch.
Infiniti got things right with the JX's design and overall interior quality, but it might come up short where passenger comfort is concerned. For a crossover, that's not a small issue.