2013 Lincoln MKS: Up Close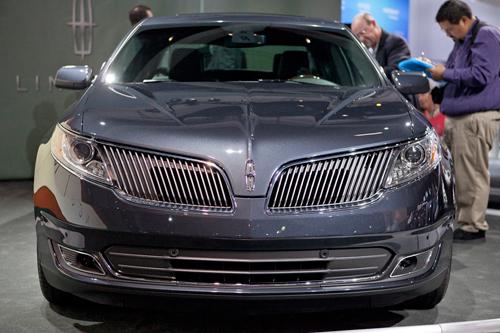 The MKS' new grille does the automotive equivalent of wearing a pinstriped shirt: It thins the car out a bit. There's more visual depth up front, taking your focus off the car's bulbous rear flanks. The grille is still a little too intense for me, and most of it is unnecessary.
More 2011 L.A. Auto Show Coverage
Look close, and half of the upper and lower "inlets" give way to solid pieces behind. I get why Lincoln did it — more openings usually hurt aerodynamics, dinging your highway gas mileage — but form clearly led function, and most of the grille is faux show.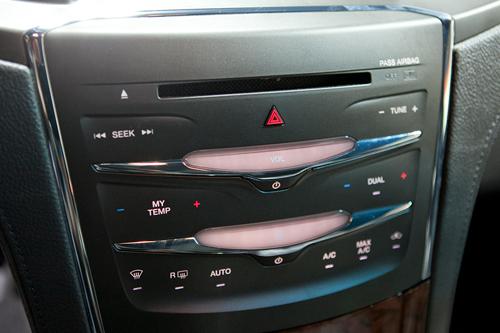 The MKS is the latest candidate for MyLincoln Touch, which, like MyFord Touch, has been upgraded this year. It works faster and has more readable fonts, and Lincoln reverted to a physical button for the often-brushed hazard lights. Passengers no longer have to wait for the climate screen to animate the heated seat into the foreground before they can turn it on. Are those cheers from the Snowbelt I hear?
But the details still disappoint. Rapid-tap the temperature key to crank up the heat, and it adds a degree for every couple of taps or so. I still question whether a moving environment with shifting momentum — a speeding car — is the place for touch-sensitive controls. You can still change the temperature on a physical knob if you hit a speed bump, after all.
The Sync voice-activated system seems less magical by the year. Need directions to the nearest Starbucks? Tell your Siri-enabled iPhone, "Hey, I need directions to the nearest Starbucks" because Sync draws a blank.
Save for some plastics along the center console, materials are good overall, though stuff in any car at an auto show is always subject to change. Ford deserves credit for building high-enough seats: You don't sit too low to the floor in the front or back, nor do you pay for it in headroom. The MKS' trunk remains a mammoth.
The suspension refinements couldn't come soon enough; the outgoing MKS rode choppier than some commuter cars. The improvement in gas mileage should draw more buyers, too. But the MKS has a lot of rungs to climb on the sales ladder if Ford wants parity with the likes of a Buick LaCrosse or Acura TL. We'll see how this one does.