Naughty or Nice: Shifters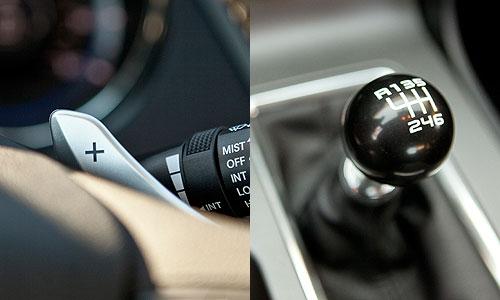 A proper shifter inspires confidence in the overall driving experience by adding precision to the transmission's operation. Manual transmission shifters may automatically come to mind as potential culprits when done wrong, but automatic transmissions can drop the ball in similar ways even without a manual clutch to get in the way.
More Naughty or Nice Picks
Naughty: Hyundai Sonata 2.0T
The Sonata 2.0T's paddle shifters are one of the few issues we have with the higher-output version of Hyundai's midsize sedan. Cars.com Managing Editor David Thomas says in his review of the Sonata 2.0T, "They deliver accurate shifts, but the plastic feels cheap and hollow." On top of that cheap feeling, the shifters don't engage very solidly. The paddles may be passable on the base Sonata, but the 2.0T needs more attention in this area.
Nice: Ford Mustang Boss 302
Clicking off gear changes in the Boss 302 is seamless with its natural-feeling shift knob and relatively short throws. The shifter engages gears with a solid mechanical swipe and exudes a nostalgic feel with the cue-ball shift knob. Unlike rough and tough transmissions of yesteryear, the Boss' clutch pedal has a smooth and easy take-up for driving the race-ready package on the street.