2012 Detroit Auto Show Winners and Losers: Production Cars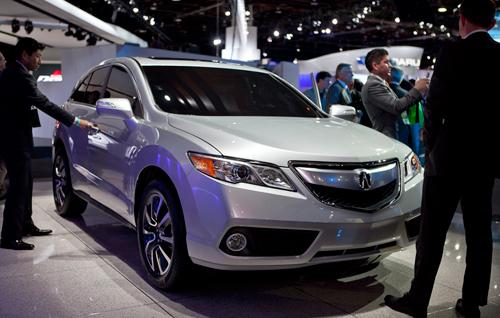 This year's Detroit auto show was one of the busiest in recent memory as automakers rolled out a slew of new cars with the industry in the midst of a rebound. That meant the editors at Cars.com were pounding the carpeted show floor for two days to rate how the various carmakers' newest offerings fared under the bright lights.
2013 Acura RDX
Kelsey Mays: Loser
Usually you see quality improve with a redesign. In the RDX, it did a little, but I didn't see the gains I'd expect from a redesign. In a few areas, the RDX still feels less than luxury. The V-6 should help smooth things out, as the last RDX delivered power in too many peaky, uneven spurts. But for an all-new model, I expected more.
Joe Wiesenfelder: Loser
Everyone's waiting for Acura to find its footing and make the right move to distinguish its styling — or products in general. This is a redesign — the main way to achieve change — and it accomplishes neither of those objectives.
David Thomas: Loser
I like the new RDX. I'll probably recommend it to shoppers in this segment over many better-looking competitors, but that will be based more on the nameplate than the design. I actually like the current turbo, too, but a V-6 if kept at a competitive price might make it a better performer and value than a Cadillac SRX or Audi Q5.
Mike Hanley: Loser
Joe's right; no one's going to know this is the redesigned RDX because its styling is so similar to the current version. The new V-6 drivetrain promises to be relatively efficient, but the RDX got lost in the wave of debuts at the show.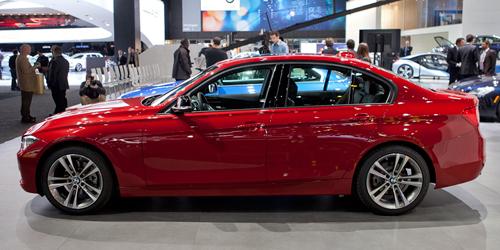 2013 BMW 3 Series
KM: Winner
With this redesign, BMW addressed some of the 3 Series' few shortcomings, namely a tight backseat in the sedan. In an era when even luxury cars are nickel and diming the interior, cabin quality is excellent, and, as mentioned, the rear quarters fit adults. Small things — layered center controls that appear to float off the stack, for example — show craftsmanship in the details, and the car's pedigree should mean outstanding dynamics. The outgoing 3 Series is still the best-selling luxury car in America; I see no reason its successor can't retain the crown.
JW: Winner
As I pointed out in the "Up Close," this model wasn't blighted as much as some BMW cars were in the 2000s, and still I'm impressed with the front-end styling. As for the 328i, I've seen no evidence in the market of the predicted backlash against small engines with turbos (in place of higher cylinder counts and displacements). If it goes fast, it goes fast. Period.
DT: Winner
I was surprised at how minimalistic this new design is. While most will be drawn to the broad front end and new lights and kidney grilles, I was shocked by the rear. It is as simple as can be. I'd like a little more flash. That would be inside, where I think this 3 Series takes a step up from the outgoing model. As Kelsey mentioned, that isn't always the case. This new 3 should keep the best-selling title in place for a few more years.
MH: Winner
I wasn't a fan of the new 3 Series' front end after seeing photos of it, but it looks better in person. The cabin does feel roomier, both in front and back, and the cabin felt nicer than the one in the new Cadillac ATS across the show floor. It looks like BMW has improved a model that already has a lot going for it.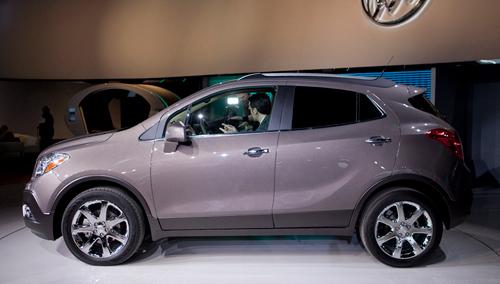 2013 Buick Encore
KM: Winner
Pricing will tell how much a winner the Encore is. You can get a well-equipped small crossover for $25,000. The Encore is a wee bit nicer, but unless it offers gobs of extra driving refinement, Buick won't be able to get away with scratching 30 large for an SUV with a pint-sized four-cylinder and twist-beam rear suspension. On its own merits, the Encore has good interior packaging and appealing — if busy — style, but the proof will be in the driving.
JW: Winner
You know, it's a good-looking little SUV. To my surprise, Buick distinguished the Verano adequately from its sibling, the Chevy Cruze, so I'm giving them the benefit of the doubt.
DT: Loser
I liked the style as much as Joe, but Kelsey has convinced me that this Buick will likely be hard to sell. It's too small to woo luxury crossover shoppers, and if they want small, they'll look at newcomers like the Audi Q3 and BMW X1 — all three will be on sale in 2013. The Acura RDX may be a loser in our ratings but at a similar price shoppers might prefer the V-6, added size and nameplate, boring design or not.
MH: Loser
When you have a crossover as small as the Encore, one of the challenges is a lack of design real estate, and you see it here in the crossover's stubby appearance. I'm not convinced that Buick buyers — new to the brand or not — want to drive something this small. A dramatic rise in gas prices might change the equation.
2013 Cadillac ATS
KM: Winner
A GM official told me the company has a different attitude about curb weight than it did five to seven years ago. It's becoming an early objective rather than an incidental characteristic. The ATS is a prime example, weighing less than rivals from Audi, Acura and even BMW. That should lift all tides: handling, acceleration, gas mileage. Other aspects look good, too. The ATS may not win the sport-sedan wars, but it gives GM another seat at the table.
JW: Winner
The CTS has been one of my favorite cars since its 2008 redesign. Unfortunately, nothing else Cadillac has done since has lived up to it. The ATS doesn't look quite as good, but maybe this one will. Now, if they would just shut up about "taking on BMW" and let the products do the talking, they'll be much better off.
DT: Winner
The CTS is a decent design, but the new XTS and now the ATS show it can translate to bigger and smaller success. The ATS is really small, though. The backseat was tighter than the new BMW's for me, with my knees hitting the seat cutouts in the ATS. But the interior quality is surprisingly high, perhaps better than the CTS and SRX. It should be a hit if pricing is right.
MH: Winner
I'm lukewarm on the ATS' front styling — it's just a lot less bold than I was expecting, considering the CTS' distinctive front end. That said, Cadillac got a lot right here. From the car's size, powertrain variety and interior design, it appears well positioned to take on the entry-luxury competition.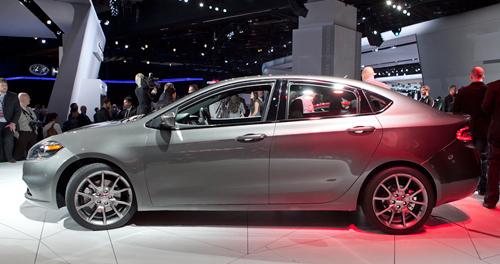 2013 Dodge Dart
KM: Winner
The Dart's platform stems from the Alfa Romeo Giulietta hatchback, but the small Dodge shares few visual cues with the Alfa. Class-leading interior quality, a svelte nose and Charger-inspired taillights should give small-car shoppers something to think about. Dodge's climb in recent reliability rankings could move a few more shoppers off the fence, but the brand is still far below average. Not that poor reliability stopped anyone from buying the Chevrolet Cruze.
JW: Winner
Enormous winner. It's a small, great-looking car with a quality interior — three things Chrysler Group needs desperately. If it turns out to be good enough, no one will care where its foundation originated. Sharing platforms and components is risky. If Fiat and Chrysler follow the 2013 Dodge Dart template, it will enjoy yet another miraculous recovery.
DT: Loser
The style is aggressive. Do I like it? No. Others will, and do, apparently Mr. Mays and Mr. Wiesenfelder. But that type of reaction is actually what automakers want: a reaction (see the Acura RDX above for the opposite). The interior is easier to like in terms of quality, but I found it claustrophobic in the driver's seat and behind it. It's about the same as the Ford Focus, which I find more confining than a Hyundai Elantra or Honda Civic.
MH: Winner
I'm not completely sold on the wide Charger-esque taillights, but this appears to be the new rear end of Dodge. I like the Dart's face considerably more, but beyond that, this model gives Dodge a high-mileage compact sedan, something it's been in need of for a while.
2013 Ford Fusion, Fusion Hybrid
KM: Winner
Evos-inspired — or developed in parallel — styling makes the new Fusion as sharp as a Kia Optima or Hyundai Sonata. Family sedan shoppers haven't had this many lookers since perhaps the early 2000s, when the first Mazda6 and an upsized Nissan Altima hit the scene. How fleeting Toyota's hybrid-sedan crown has become: The new Fusion Hybrid leapfrogged it with 47/44 mpg city/highway, and the 1.6-liter EcoBoost will get 37 mpg highway. My only beef is the run-of-the-mill 2.5-liter Fusion, whose gas mileage looks to be as subpar as the Gingrich campaign.
JW: Winner
Thank you, James Carville. You're right, it looks great, yet is toned down enough versus the smaller Fords to excel in the more conservative midsize class. Even Ford's stubborn, misguided devotion to capacitive non-buttons won't be enough to torpedo this model.
DT: Winner
This is as clear a winner as there was in Detroit. To say it was the winner of the show isn't an understatement. The design finally brings Aston Martin looks to a Ford in the U.S., and it's done exceptionally well. Inside a top trim is close to many premium brands and better than some current Lincolns, too. And unlike the new Focus and Fiesta, it doesn't feel cramped inside for the class.
MH: Winner
Dave's right; the Fusion was the star of the auto show. From its upscale, graceful looks to its efficient drivetrain options, the redesigned Fusion should make a strong case to families cross-shopping midsize sedans. However, like Joe, I'm disappointed by the proliferation of touch-sensitive controls here and in other Ford products. Stop with the madness already!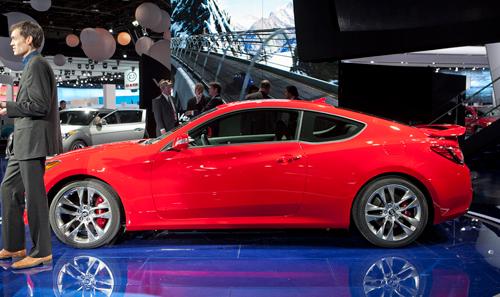 2013 Hyundai Genesis Coupe
KM: Loser
Hyundai's direct-injection 3.8-liter V-6 is among the best of its kind, but this remains a protest vote against Hyundai associating this car with the Genesis sedan. For cabin refinement, the four-door is still in another league.
JW: Winner
Underpowered sports cars are no one's favorite, but it's the Genesis Coupe's suspension that made it uncompetitive. They retuned it. I'll need to drive it to be sure, but the Veloster and Hyundai's history of methodically addressing shortcomings inspire confidence. Don't prove me wrong, Hyundai. (And yeah, change the name.)
DT: Loser
Every new Hyundai I get in keeps surprising me. Then I got in the last Genesis Coupe, and it was a letdown. This update doesn't do enough to win me over in terms of styling, and it will have to drive a lot better than the outgoing version for me to give it a winning nod.
MH: Winner
Why so petty, Kelsey? Naming issues aside, this is a nice update. The new front end gives the car some much-needed presence and works well with the rest of the styling, and the power bump for the base turbo four-cylinder engine is especially welcome.
2013 Mercedes E-Class Hybrid
KM: Loser
With the exception of Lexus, luxury hybrids are still fringe players, and I'm not sure Mercedes will nab a big slice of this (small) pie. The 27-mpg E400 hybrid is less efficient than the 29-mpg Infiniti M Hybrid and 31-mpg Lexus GS 450h. I expect BMW's ActiveHybrid 5 will beat 27 mpg when its EPA figures arrive, given the 535i already gets 25 mpg overall. Gas mileage matters less on a $50,000-plus luxury car, but it's still a yardstick for any hybrid. The E-Class just doesn't measure up.
JW: Loser
Kelsey's right. A luxury hybrid that doesn't have notably better mileage is just a poseur. This system is more elaborate than the one in the S-Class hybrid, but that car's appalling brakes make me dubious of any new attempts. They should probably just give it another name, like Chevy did with the Malibu Eco, because its small battery pack makes it more of a mild hybrid.
DT: Loser
Can I just say "me three" and move on to the SL?
MH: Loser
I think the guys summed this one up pretty well. Back to the drawing board, Mercedes.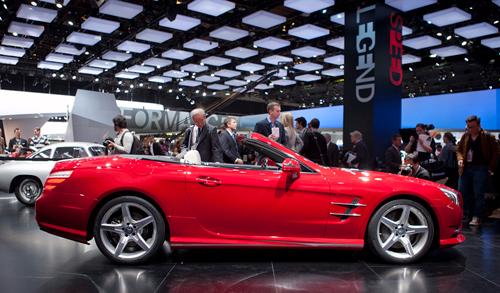 2013 Mercedes-Benz SL-Class
KM: Winner
In person, the SL looks like a proper flagship roadster. The Lexus LX 570 prompted me to ask if the market needs a $75,000-plus, low-mileage SUV. The same could be said for the SL, but the car's unbridled allure overcomes that. The interior wraps just about everything with leather. Open the trunk, and the folded hardtop automatically motors up to allow access to luggage space. The 1 percent have never had it better.
JW: Winner
Thank you, Mr. Romney. The SL-Class was overdue for a redo. I'm still on the fence about its front styling, but there are many improvements, not the least of which is lighter weight. Not light enough, but lighter.
DT: Winner
The current SL is still fun to drive; it just feels outdated behind the wheel. This SL fits like a glove and wraps the driver in a luxurious but sporty interior very similar to the SLS AMG. I love the new Mercedes look applied to the roadster's exterior, too. This is one of the few cars I sat in and didn't want to get out of.
MH: Loser
With a car like this, it all comes down to how the car looks and how you look behind the wheel. From a styling standpoint, the new SL is … challenged, specifically because of its ghastly headlights. While the interior and powerful engine check the right boxes, when the design leaves a bad taste in your mouth we've got a problem, Stuttgart.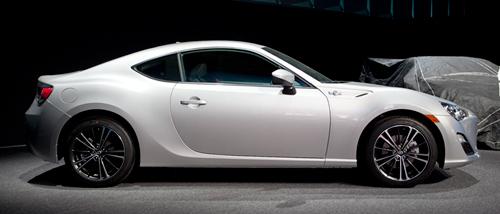 2013 Scion FR-S
KM: Loser
I was all ready to crown the FR-S — and its Subaru BRZ compatriot — until I looked at the specs: 200 horsepower, 151 wimpy pounds-feet of torque from a 2.0-liter engine. It's the sexiest-looking Scion in the brand's nine-year history, but sports cars need to move off the line. Yes, I've said before that I liked winding out torque-challenged Asian compacts to absurd rpm. But does the average buyer? I just don't know.
JW: Winner
I agree wholeheartedly with Kelsey, but I'm of a mind to call any new sports car — especially one with rear-wheel drive — a winner. Let's not let fun die in this era of hybrids and other science projects.
DT: Winner
I'm more in Joe's camp about this one. If it's as fun to drive as it looks like it could be, it will deliver on that promise while giving young buyers a sporty option that truly has some performance chops versus a traditional compact coupe. The question is whether you go with the Subaru or the Scion? I'd think performance fans would lean toward the Subaru.
MH: Winner
I'm less concerned about the engine output of the FR-S because of the car's lightweight platform. Plus, I can already see aftermarket tuners — and Scion, too — coming up with all sorts of ways to increase the power for those who want more. What's harder to change is chassis balance, and it looks like Scion got that right.
2013 Subaru BRZ
KM: Loser
Compared with its Scion sibling, the BRZ benefits from an interior free of Scion-parent Toyota's clumsy climate controls. But again, the 2.0-liter engine needs more oomph, at least on paper. Like I often say, I want Scion and Subaru to prove me wrong. Both cars have handling potential, and the styling is hard to argue with.
JW: Winner
My FR-S comment covers it.
DT: Winner
My FR-S comment covers it, too … but I wonder if there are enough potential buyers to support both versions.
MH: Winner
I like the BRZ for the reasons I like the FR-S — performance potential and style — but both cars seem to have too much space between the tires and fenders. Again, just wait for the aftermarket to get involved.
2013 Toyota Prius c
KM: Winner
The Prius c marries the '80s subcompact promise — sky-high gas mileage for a low price — with modern conveniences. A healthy list of standard features and simple, effective styling make this a winner. When Toyota first announced plans to develop a Prius family, I saw the move as an overzealous drive to milk the nameplate for all the brand equity it's worth. But this has success written all over it.
JW: Winner
When Honda brought out the CR-Z, I said I didn't think consumers were looking for smaller hybrids that were less efficient and potentially more expensive. Cheaper and more efficient was the way to go. Although the Prius c's combined mpg matches the regular Prius', it still beats everything else out there. I'm still convinced the Prius c is the way to go.
DT: Winner
I don't think the Prius v makes much sense because it gives up too much mileage for the added space and price. The opposite is true for the Prius c. You don't lose mileage, save money and lose space. For many commuters out there, space will be the last thing they're thinking about in the car-buying equation.
MH: Winner
I like the styling of the Prius c more than the regular Prius, but in the end, it's all about mileage with this car, and it comes through in a big way, with 53 mpg in the city. With an appealing base price of less than $19,000, they're going to have trouble keeping these on dealership lots.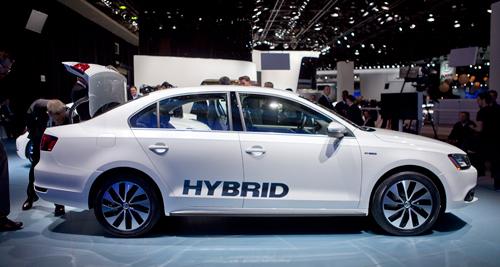 2013 Volkswagen Jetta Hybrid
KM: Winner
For being such a global behemoth, Volkswagen is well beyond fashionably late to the U.S. hybrid party. Creating a hybrid variant of its best-selling Jetta makes plenty of sense, giving shoppers a high-mileage alternative to the diesel Jetta TDI. And it's an interesting tack: a 1.4-liter turbo four-cylinder serves as the internal-combustion source, coupling to an electric motor and dual-clutch automatic. It's inventive — and, at 45 mpg combined, effective.
JW: Winner
This one's all in the numbers. So long as the driving experience isn't compromised by the technology, you just can't argue with 45 mpg.
DT: Loser
I thought VW would just stick to TDI diesels as its alternative powertrain of choice. I'd rather see improved mileage in their base four-cylinder than a hybrid option. It also looks like just a plain, old Jetta no matter how impressive the mileage is. Hey, I hear there's a DJ over by the E-Bugster.
MH: Winner
I think VW would prefer to just make diesels, but it realizes it needs to have hybrids to appeal to eco-conscious shoppers in the U.S. VW expects the Jetta Hybrid to have a starting price similar to the Honda Civic Hybrid but with slightly better gas mileage. That seems like the right way to break into the hybrid sedan segment to me. It also wins because the Hybrid stickers on the doors are just for the auto show.