2013 Audi Allroad: Up Close
The return of Audi's Allroad nameplate — to the A4 line as opposed to the A6 — simultaneously marks the end of the A4 Avant wagon in the U.S. Wagon fans shouldn't be in complete despair, though, because the Allroad carries forward many of the wagon's attributes.
More 2012 Detroit Auto Show Coverage
The Allroad adopts the restyled headlights of the 2013 A4 sedan but gains a unique grille with closely spaced vertical slats that distinguish it from the sedan. It's paired with a silver-colored chin spoiler with integral vents.
The Allroad's fenders are adorned with body cladding, a time-honored tradition among automakers with off-road aspirations for their cars. The cladding isn't excessive, but I would have preferred all-new wider metal fenders over the tacked-on look of the body molding. That would have cost a whole lot more, though.
A more practical feature for off-road driving is the Allroad's extra 1.5 inches of ground clearance. Despite the increase, the Allroad's ride height is still more similar to a wagon than a crossover, so getting in and out of the car isn't difficult. The relatively low ride height also makes for a low liftover height into the 27-cubic-foot cargo area.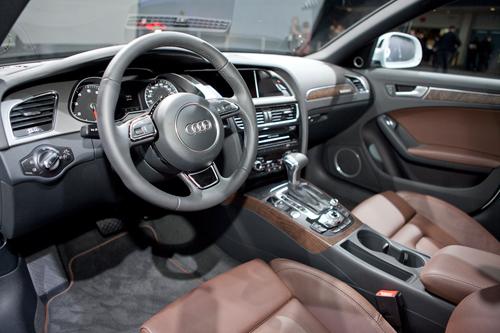 The familiar A4 dashboard faces you from the driver's seat, with a hood over the instrument panel that wraps into the center control panel. Like the larger A6, the Allroad's navigation system supports Google Earth image overlays via an embedded 3G cellular connection. The show car's cabin had Audi Exclusive brown and black trim — not my first color combination, but fortunately other styles are offered.
Crossovers remain hugely popular, but Subaru, in particular, has figured out a way to sell jacked-up wagons with its Outback. It remains to be seen whether Audi can pull off the same feat in the luxury segment with the new A4 Allroad.