2013 Buick Encore: Up Close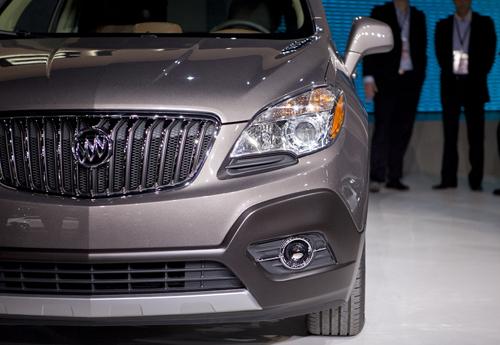 Buick designers did a deft job melding cute-ute with premium quality, and the Encore's tidy proportions look good. There's a lot of visual clutter, though. The faux vents under the headlights look bizarre and serve no functional purpose. Ditto for the hood vents, but that's a longtime Buick trend. Buick officials said the fender and bumper panels can come in three paint colors, but the whole of it looks like a lot of cladding, especially in back. Take in the silver scuff plate, reflector lamps and offset cladding and the tail has more going on than a New York Jets off-season.
More 2012 Detroit Auto Show Coverage
The cabin redeems things.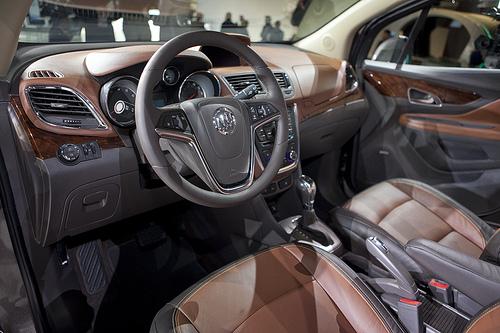 Pricing is still months away, but if you can load one up for the price of a basic BMW X3, quality for the money will impress. Padded materials go where they count, and the faux metal trim looks like the real deal. Buick touts storage areas up front, but the reality is less appealing. The doors have a couple shelves of pockets, and there are two glove compartments.But both compartments are small, and the center console amounts to a small, floor-level storage cubby.
Packaging is good, otherwise. The Encore's cabin feels narrower than most small crossovers, but it doesn't constrain; there's room to spread your knees and arms. Headroom in both rows is good. The backseat could sit higher off the floor, but legroom should suit most adults. Folding the seat down is a drag: You have to flip the seat cushions before folding down the seatback. It enables a flat cargo floor, but others do this in one step. The Encore does have a fold-flat front seat, at least, which augments the 48.4 cubic feet of maximum cargo volume with the backseat alone folded, in case you do frequent Ikea runs or borrow a friend's ladder.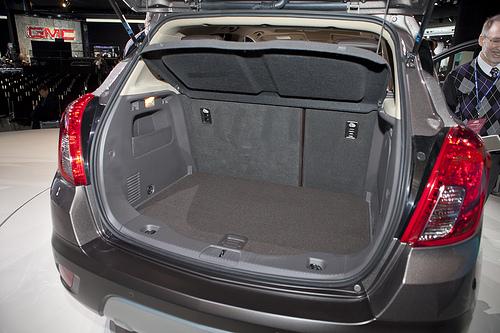 Will GM's tiny turbo 1.4-liter four-cylinder provide enough oomph? Chief engineer Jim Danahy said a 2.0-liter engine wouldn't fit within the architecture, but with the 1.4-liter the Encore should hit 60 mph in less than nine seconds and get more than 30 mpg highway. That ought to suffice for this audience as four-cylinder crossovers aren't a speedy group. But the Buick marches to a (slightly) different beat. Product development chief Mary Barra called the Encore "a luxury alternative" to the segment, and officials say the car has no direct competitors — at least, not until the BMW X1 and Audi Q3 arrive. Customers will have to come out of sedans, larger SUVs and a few existing compact crossovers. Time will tell if Buick can draw enough of them.