2013 Cadillac ATS at the 2012 Detroit Auto Show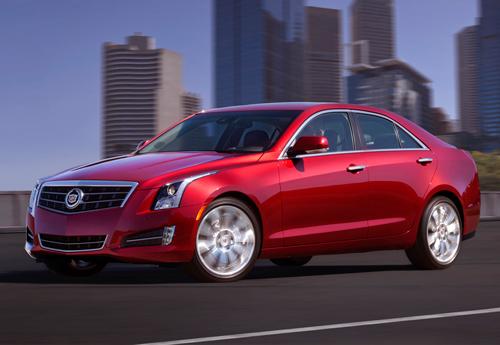 Competes with: BMW 3 Series, Audi A4, Acura TSX
Looks like: A sleeker CTS, except maybe in back
Drivetrain: 200-horsepower, 2.5-liter four-cylinder; 270-hp, turbocharged 2.0-liter four-cylinder; 318-hp, 3.6-liter V-6; six-speed automatic or manual transmission; rear- or all-wheel drive
Hits dealerships: Summer 2012
Ever since the CTS grew with its second generation, Cadillac has needed a credible competitor in the entry-level, rear-wheel-drive sport sedan segment. Behold the long-awaited ATS, which hits Cadillac dealerships this summer.
More 2012 Detroit Auto Show Coverage
It's GM's latest shot at the BMW 3 Series, which is still the best-selling luxury car in America. Cadillac says the ATS weighs less than 3,400 pounds — less than the minimum weight of the 2012 Acura TSX (3,400 pounds), BMW 328i (3,406) and Audi A4 (3,505). That's an impressive statistic from GM, a company whose cars often show up heavier than that neighbor who ignored all restraint on holiday fudge.
Toward that end, the ATS is 8.5 inches shorter, bumper-to-bumper, than the CTS. It's also 1.4 inches narrower and 2.1 inches shorter wheels-to-roof. The footprint mirrors the 3 Series, while the A4 and TSX are a bit larger. Unfortunately, the shrink-wrapped package affects trunk volume, which measures a scant 10.2 cubic feet.
The ATS' narrower headlights represent the closest interpretation yet of the slit-like lamps on the Ciel and Converj concepts shown in 2011 and 2009, respectively. The protruding nose — with an offset center bumper inlet — recalls GM's Buick Regal, though the cars ride separate platforms. The Cadillac's short tail holds two inboard tailpipes, with a shoulder line that materializes under the C-pillar, winds around the trunk and disappears a few inches from Cadillac's deck logo. It could look interesting or dopey; we'll have to see the car in person to decide. Seventeen-inch alloy wheels are standard, with 18s optional.
Inside, the dash has genuine wood and metal trim, with similar stitching as in the CTS. Cadillac's CUE system — Cadillac User Experience — is front and center. First seen in the XTS sedan, CUE has an 8-inch touch-screen, smartphone multimedia integration and touch-sensitive buttons that motor out of the way for a storage cubby. Rounding out the safety front are up to 10 airbags, plus radar-based automatic braking in Drive or Reverse.
Like any decent automaker building a sport sedan, GM took to Germany's Nurburgring track — the Mecca of raceways — to develop the ATS. Cadillac says the chassis sports near-50/50 weight distribution and a multilink rear suspension. Brembo brakes are optional, as is a limited-slip rear differential and sport-tuned adaptive suspension.
Base models get a 200-horsepower, 2.5-liter four-cylinder engine with direct injection. A 270-hp, turbo 2.0-liter four-cylinder will be optional, as will Cadillac's familiar 318-hp, 3.6-liter V-6. All three engines can run on regular gas, though Cadillac recommends premium with the turbo. All-wheel drive is optional across the board. The ATS comes with a six-speed automatic, and a six-speed manual will be available with the turbo, but Cadillac hasn't determined whether the other engines will be offered with a stick. A spokesman told us it's "less likely," and we wonder why the most powerful engine (3.6-liter) will be automatic-only.
Gas mileage is pending, but Cadillac says the car will deliver 30-plus mpg highway in at least one variation.
Clicking on any image below will launch a larger photo gallery; you can browse through them by hitting the right and left arrow keys.