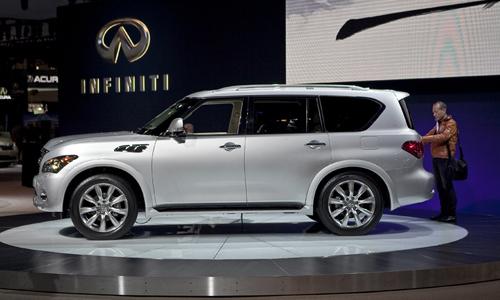 Infiniti has nearly perfected the highly scientific and closely guarded formula required to produce a luxurious family hauler with inspiring performance. The automaker has set the bar high with the QX56 in that regard, with the exception of its design, which is a bit ... unique. Its works, though. In 2011, the QX56 outsold its main rival, the Lexus LX 570, 13,428 units to 3,167.
Now Lexus is trying to catch up with a refreshed 2013 LX 570.
More 2012 Detroit Auto Show Coverage
While I haven't had the opportunity to drive the new LX 570 with my family in tow, initial reports look promising. With many features similar to my favorites in the QX, such as a wide-view front and side camera feature allowing you to see what's in front of your bumper while moving at up to 7.5 mph, the 2013 LX 570 could be a contender, or maybe even a leader, in the uber-lux large SUV segment.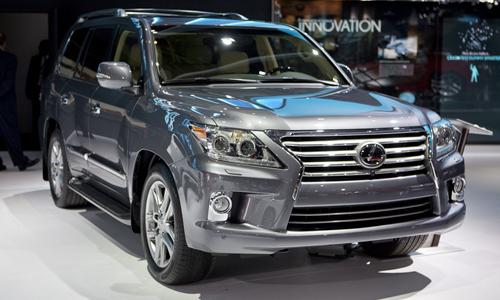 The LX 570 also features power-adjustable front seat cushion extenders, a great feature for families like my own where the two drivers are drastically different heights; I'm 5 feet 3 inches while my husband is 6 feet 2 inches.
With a standard power sliding second row, the LX has a leg up on the Infiniti. The seats slide back and forth 3.5 inches to create more legroom in either the second or third row as needed. However, the mechanism to flip and fold the second-row seats is purely manual in the LX 570, where in the QX56 you can fold the second-row seats via a spring-loaded release lever in the center stack. Both offer power folding third- row seats.
The LX 570 also offers an optional cool box to keep drinks and snacks at the perfect temperature.
Maybe the LX is now just as good as the QX in terms of amenities, and we'll see how it drives when it goes on sale in February. But even with the slight revisions to the LX's style, it doesn't make as bold a statement as the QX when you pick up your kids at school.