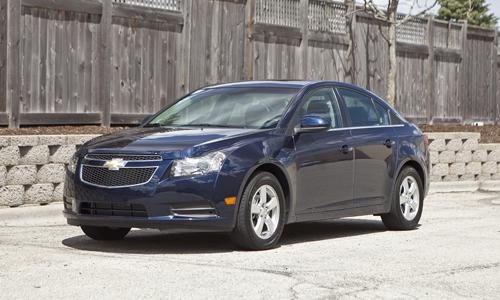 If given a choice, the vast majority of car buyers will excitedly opt for terrific fuel economy rather than simply tolerating decent fuel economy. In the past year, a handful of new non-hybrid cars hit dealer lots capable of getting 40 mpg. Sometimes only a certain trim level can actually achieve that mileage number — usually only in highway mileage — but the models overall stand head and shoulders above cars that narrowly miss that important 40 mpg barrier.
The slightest difference in highway efficiency earns one nameplate a huge advantage over its rivals when it comes to sales volume. 2011s numbers seem to prove it.
As individual models, these affordable, highly efficient small cars are attracting buyers at a furious rate. Ford Focus sales were up 12% in December. The Chevrolet Cruze reported a 53% improvement in December. A smaller Chevy, the Sonic, was up 42% compared with the Aveo's — the model it replaced — December 2010 performance. December sales of the Hyundai Accent shot up 91%. Though Elantra sales basically remained level in December, Hyundai's compact was up 41% overall in 2011.
The intentionally niche Hyundai Veloster hasn't turned out to be terribly niche, finding 2,188 buyers in December. That's more, incidentally, than the more traditional Kia Rio, a car which still posted a 128% December sales boost. Finally, Volkswagen's Jetta sedan was up 18% last month and finished 2011 55% better than 2010. The Jetta's diesel is rated at 42 mpg on the highway.
These recently re-engineered or all-new small cars, along with the similarly new and 40-mpg-capable yet not as hot-selling Ford Fiesta and Honda Civic — combined for a 24.3% year-over-year increase in 2011.
Contrast that with the 7.9% increase from 2010 levels achieved by the Nissan Versa, Toyota Yaris, Volkswagen Beetle, Fiat 500, Scion tC, Subaru Impreza and Mazda2 last year. All are small cars in similar price ranges but with less stellar mileage. The overall new-car market grew at a 10% clip this year.
There are mitigating factors. Not all these cars were launched on the same day with the same marketing ploy at the same price point. There's more at play here than the EPA's ratings. But there's no denying that a group of cars that boast 40 mpg numbers — and they do boast, even if that potential can only be found on the right tires with the right transmission — are selling much more often than they did last year.
Not all buyers care about fuel efficiency first and foremost. In December, Jeep had its best Grand Cherokee sales month in six years. It gets 23 mpg highway. Infiniti stuck with its jumbo luxury SUV plans over the past few years despite gas price spikes, so it recently invested in a new QX56 (20 mpg highway). Sales improved 13% in 2011.
There may be a million other reasons prospective buyers are choosing a Hyundai Veloster over a Fiat 500, but the numbers seem too high to be merely coincidence. Hyundai sold more Velosters in the last third of 2011 than Fiat sold 500s in 10 months.
This new wave of 40 mpg cars could be the first wave that changes car shoppers' thinking about what kind of mileage a new car should have, and that number is quite high.