Acura NSX Concept at the 2012 Detroit Auto Show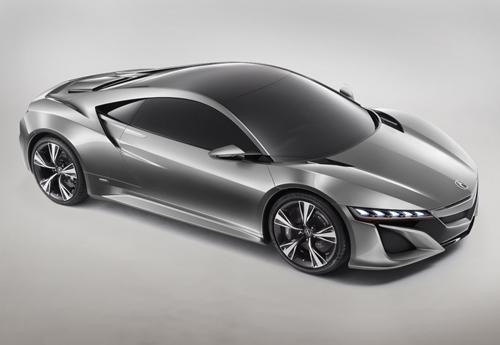 Looks like: A supercar is finally back on Acura's drawing board
Defining characteristics: Staff photographer Ian Merritt summed it up best: "Drooooool."
Ridiculous features: A hybrid, mid-engine exotic car?
Chance of being mass-produced: It will happen, but not for about three years
Will a supercar return to Acura dealerships? For years we've heard rumors about the NSX's eventual return to the U.S. market, and it looks like Honda's luxury arm is finally planning to revive the nameplate after a near-decade-long hiatus. The NSX was last produced for the U.S. market in 2005.
More 2012 Detroit Auto Show Coverage
As with the previous production version, the concept is a mid-engine coupe. But rather than having rear-wheel drive, the NSX concept uses all-wheel drive. Acura is using the concept to showcase a new hybrid all-wheel-drive system, called Sport Hybrid Super Handling All Wheel Drive. It uses a pair of electric motors to generate torque and apply it to the front wheels for better cornering control and improved handling.
Details are few, but the NSX concept uses what Acura calls "a powerful next-generation" VTEC V-6 engine with direct injection.
Enthusiasts will have to wait to order one, however. Acura says the production version should be unveiled within the next three years. The NSX will be built at one of Honda's Ohio plants. There was no word on pricing, but it won't be cheap: The 2005 model started at $89,000.
Clicking on any image below will launch a larger photo gallery; you can browse through them by hitting the right and left arrow keys.