Chevy Tru 140S Concept at the 2012 Detroit Auto Show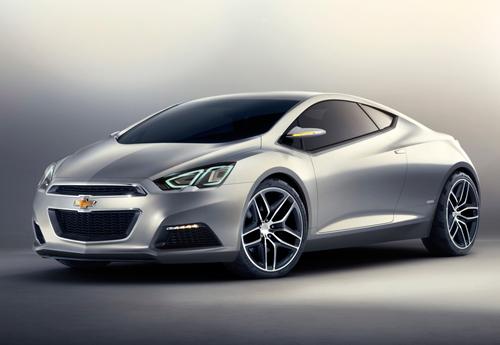 Looks like: Chevy thought the last Mitsubishi Eclipse was a good design
Defining characteristics: Style and substance with a low sticker price
Ridiculous features: Cross-flag emblems usually reserved for most prestigious Chevy models
Chance of being mass-produced: Unlikely
Chevy's Tru 140S Concept is meant to be an affordable sports car for young buyers. Perhaps the Camaro is attracting too many older shoppers looking to relive their glory days and Chevy needs something different.
More 2012 Detroit Auto Show Coverage
The Tru 140S is different. It's a front-wheel-drive, two-door hatchback that seats four people and would use a turbocharged 1.4-liter engine with 150 horsepower. That sounds in line with what Hyundai's Veloster delivers in its base engine, which most people don't consider very sporting. Chevy says the Tru 140S uses the same platform as the Chevy Cruze and Volt.
Like the Veloster, Chevy projects that the Tru 140S would get 40 mpg highway. It would use stop-start technology and direct injection to obtain those figures. It would also cost in the low $20,000s while the Veloster starts well under that at $17,300.
The concept also packs WiFi connectivity, smartphone integration, Chevy's MyLink system and a head-up display but surprisingly not a finished interior. The company says it will continually tweak the cabin as tastes change, but Chevy hasn't said the concept is on any type of production timeline.
Clicking on any image below will launch a larger photo gallery; you can browse through them by hitting the right and left arrow keys.