Lincoln MKZ Concept at the 2012 Detroit Auto Show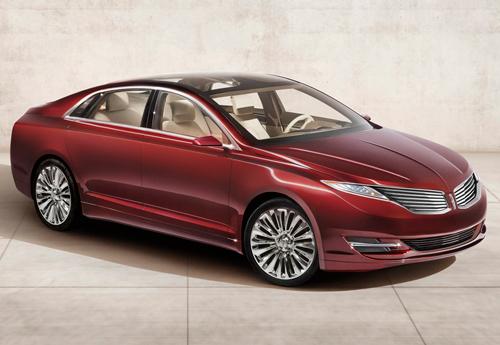 Looks like: Lincoln's getting closer to finding a winning design theme
Defining characteristics: Split-wing grille, panoramic glass roof, LED instruments, push-button transmission
Ridiculous features: Seat perforations made to look like champagne bubbles
Chance of being mass-produced: The redesigned MKZ sedan should look something like this when it hits dealerships later this year
Lincoln says the concept car you see here "strongly hints" at the production MKZ slated to arrive at dealerships later in 2012. If that holds, it will represent a significant departure for Lincoln's volume MKZ, which until now has closely mimicked the design of its platform mate, the Ford Fusion.
More 2012 Detroit Auto Show Coverage
The changes start up front, where the MKZ Concept gets the latest iteration of Lincoln's split-wing grille, which has been in a constant state of evolution since its debut a few years ago. This is about as good as the grille has looked, with one of the key changes being the replacement of the vertical slats with horizontal ones that help emphasize the car's width.
A full-glass roof meets a swept-back rear window, and the tail of the concept is finished with a wide taillight bar and exhaust tips that are integrated into the lower body trim. Like the redesigned 2013 Ford Fusion, which also debuted at the Detroit Auto Show, the MKZ Concept has an appealing gracefulness though I'm not completely convinced Lincoln has found the right variation on its split-wing grille just yet.
For a concept, the MKZ's cabin is rather conventional. Even the touch-sensitive sliders on the center control panel don't seem that far-fetched because Lincoln already uses ones like them in the MKX crossover. There are a few interesting touches, including a push-button gear selector, configurable LCD gauges and leather upholstery that's perforated to resemble champagne bubbles rising in a glass. Yes, really.
Lincoln has its work cut out for it as it tries to lure back luxury-car shoppers because there's just so much out there these days competing for their attention. A production version of the MKZ Concept might be able to cut through the noise but it won't be easy. While Ford may want to revitalize Lincoln overnight, it's going to take time to restore the brand.