Reader Review of the Week: 2012 Toyota Highlander Hybrid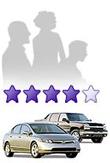 "Family of Four" from Los Angeles was in search of the perfect family vehicle — something that was easily maneuverable, versatile and fuel efficient. The family settled on the 2012 Toyota Highlander Hybrid for its comfortable, quiet ride and superb fuel economy. For all the reasons why Family of Four chose the Highlander Hybrid over the likes of the Honda Pilot and Lexus RX, continue reading below. Once you're done, write a review about your own car here.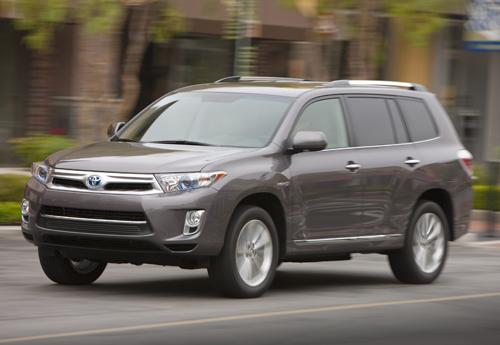 "We purchased the '12 Highlander Hybrid because we were looking for a vehicle that could haul our family with two kids comfortably around town, get decent mileage for a daily 80-mile round-trip commute (with traffic), have the capacity to accommodate a third row of our kids' friends, and have all-wheel drive for ski trips to the local mountains. There really wasn't any other vehicle that came close to fulfilling all these criteria.
"The Highlander Hybrid is very comfortable and extremely quiet. There is very little wind or road noise at highway speed. Being able to scoot around in complete silence in all-electric mode (up to 30 mph) in a vehicle this size is impressive. We were amazed by the peaceful nature of the cabin. However, as a taller individual (6 feet tall), I feel that the seat could have some more thigh support for long drives, but otherwise, no complaints for the cabin.
"The hybrid powertrain is terrific. It is totally seamless between the gas and dual-electric motors, and we are averaging 28 mpg with everyday driving over the past 4,000 miles (as advertised). Range is approximately 400 miles between fill-ups. The added bonus is that it runs on regular unleaded gas, which further reduces fuel costs. For an all-wheel-drive vehicle of this size, this is quite a feat when you consider we are often transporting four to six people and their gear. We use the Econ mode to buffer the accelerator a bit for improved efficiency in stop-and-go driving.
"The continuously variable transmission is fine for daily driving, but when sudden acceleration is needed the engine does get quite loud and intrusive as the vehicle tries to get up to speed. Once the engine roars, there is actually impressive acceleration, but the response of the throttle is not very sporty. In addition, the regenerative brakes are somewhat soft and do not have the precise feel of standard brakes. This vehicle is clearly intended for lazily cruising around — not for fast starts and stops. As a family vehicle, however, this is not a problem.
"We mainly compared this to the Pilot EX-L AWD. However, the Pilot is larger and while this gives it more interior room, it was too big for my wife to handle comfortably for short errands around town and parking quickly. In addition, getting less than 20 mpg in the city was not appealing. The Lexus RX 450h will give you a similar hybrid all-wheel-drive powertrain as the Highlander Hybrid, but it is smaller and there is no third-row seat.
"Overall, we are extremely happy with our purchase and feel lucky to have gotten our vehicle. Due to the tsunami in Japan, production of the Highlander Hybrid was apparently shut down for several months (it is the only Highlander made in Japan), but it is now back in dealerships."