Volvo XC60 Plug-In Concept at the 2012 Detroit Auto Show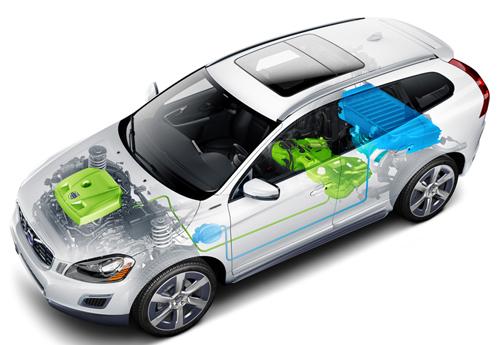 Looks like: XC60 with some "green" badging
Drivetrain: 280-horsepower, 2.0-liter four-cylinder engine and an electric motor powered by a lithium-ion battery pack
Defining characteristics: Driver chooses between pure electric and gas/electric modes
Chances of being mass-produced: Volvo says the technology will hit showrooms in a couple of years
Volvo's smallest SUV might be jumping on the alternative-fuel bandwagon. The XC60 — the brand's most popular model — was chosen for a plug-in version in concept form here. It might not look as revolutionary as a Chevy Volt, but Volvo buyers can afford to go green and they have few options within the brand.
More 2012 Detroit Auto Show Coverage
The XC60 Plug-In Concept is powered by a 280-horsepower, turbocharged 2.0-liter four-cylinder engine and an electric motor good for an extra 70 hp. The motor uses a 12-kilowatt-hour lithium-ion battery pack. An eight-speed automatic is the sole transmission.
The concept operates in three modes. In Pure mode, it works like an electric vehicle and has a range of 35 miles. In Hybrid mode, the car uses the engine and motor along with a stop-start function to provide an estimated 50 mpg in combined city and highway driving. Horsepower is maximized in Power mode, where drivers can access the car's full combined 350 hp. The XC60 will accelerate from zero to 60 mph in 5.8 seconds in Power mode, according to Volvo. Drivers can toggle among the three modes with the touch of a center-stack-mounted button.
The vehicle can be plugged into a traditional wall outlet and fully charged in about three-and-a-half hours on a 220-volt outlet and seven-and-a-half hours using a 110-volt outlet. Drivers can use Volvo's new Sensus entertainment and navigation system to find charging stations. Sensus provides drive routes based on traffic information and the locations of low-emissions zones and charging stations.
While a plug-in version of the XC60 hasn't been confirmed, Volvo said the alternative-fuel technology this concept uses will see production during the next couple of years. We don't see why it wouldn't find its way to the XC60, though. In September the automaker announced the use of a new eight-speed automatic transmission and four-cylinder engine in future Volvo vehicles.
If produced, this would be Volvo's second hybrid vehicle. The V60 plug-in diesel/electric hybrid reaches its first European customers this fall. The gasoline version of the V60 isn't sold in the U.S., so it's unlikely the V60 plug-in will arrive here. Volvo's current XC60 is powered by two engines: a 240-hp, 3.2- liter inline-six-cylinder and a 300-hp, turbocharged 3.0-liter inline-six-cylinder.