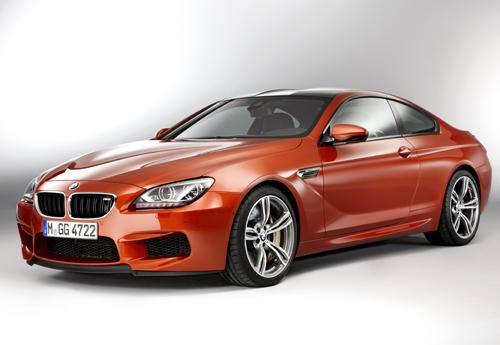 Competes with: Mercedes-Benz CL63 AMG, Bentley Continental GT
Looks like: There's no clutch option on the M6, which is the case with the new M5
Drivetrain: 560-horsepower, twin-turbocharged 4.4-liter V-8; seven-speed M-Double Clutch Transmission
Hits dealerships: June 2012
After a two-year sabbatical, the BMW M6 is back for the model year, packing more power and better fuel efficiency. First to launch will be the 2012 BMW M6 convertible in June, with a 2013 BMW M6 coupe following later this summer.
If you've read up on the 2012 BMW M5, you'll be familiar with most of the performance upgrades on the new M6. The model gets a new V-8 motor — first seen on the BMW X5 M, X6 M and most recently on the M5. Despite the smaller displacement and two fewer cylinders than the 2010 M6, the new engine provides more power and better fuel efficiency. Rated at 560 horsepower, the twin-turbocharged 4.4-liter V-8 also produces 502 pounds-feet of torque; it's the most powerful engine ever available on a retail BMW model, says the carmaker. The powertrain packs 60 hp and 119 pounds-feet more torque than the 2010 M6. Auto start-stop and regenerative braking also come standard on the model.
The new M6 coupe can accelerate from zero to 62 mph in 4.2 seconds; it's 4.3 seconds for the convertible. Both models have an electronically limited maximum speed of 155 mph.
Instead of offering manual and automatic transmissions, all M6s now feature a seven-speed double-clutch transmission that offers fully manual and fully automated shift options. There are three different driver-selected programs in each mode, including a low-speed assistance option that will help the car move smoothly through heavy traffic. There's also an automatically activated parking mode and launch control mode.
The M6 also gets extensive suspension and chassis upgrades, including beefier brakes and electronically controlled shock absorbers. Performance options include BMW's first carbon-fiber ceramic compound brake rotors.
The M6 is fitted with 19-inch light alloy wheels and ultra-high performance tires; 20-inch performance tires are optional.
Exterior upgrades include quad-tailpipes and xenon high-intensity-discharge headlights with LED accents. The M6 coupe gets a roof molded with carbon fiber composite materials; the convertible's soft-top roof can be opened and closed at speeds of up to 25 mph. Adaptive LED headlights are optional, too.
In the cabin, the model also gets the M-treatment featuring unique electronically contouring sport seats, an M-specific steering wheel, carbon fiber interior trim and an Anthracite roofliner.
Pricing, technical specifications and additional features will be announced closer to an on-sale date, early this summer. BMW does say it expects the model to consume 30% less fuel than the outgoing model, which netted an abysmal 13 mpg city/highway combined EPA score.