2012 Chevy Volt More Miss Than Hit for This Family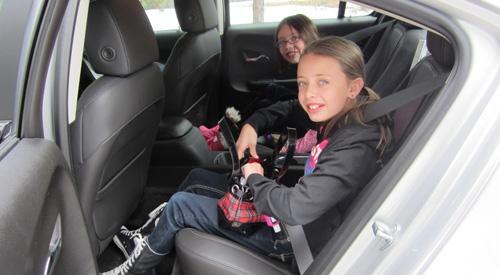 A 2011 Chevy Volt has been part of Cars.com's Chicago-based fleet for more than a year now. It was purchased to see how the Volt performed in the city's four seasons. Follow Cars.com's coverage of the Volt
here
.
When a 2012 version showed up at my Colorado home for a weeklong test, I wanted to see how it would handle the arduous tasks an average suburban family would put it through, including driving carpool, running errands and loading up all the kids' stuff. My family's verdict on the Volt was a mixed bag, but there were more misses than hits.
Of course since the Volt only seats four, this car will only work for small families. I have two daughters, ages 9 and 11, but every other weekend we become a family of five when my 7-year-old stepdaughter is with us. With the Volt, we had to divide and conquer. My family caravanned in two cars when we wanted to go somewhere as a family. Many families I know occasionally need that extra middle seat in the back (picking up an extra body for a sleepover, anyone?), so based on seating capacity alone, we'd lean toward the five-seat Nissan Leaf if we were going to purchase an alternative fuel vehicle.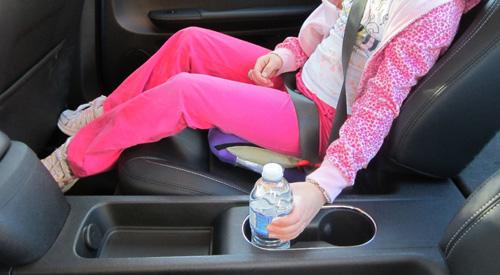 The Volt's four-seat design does have an upside, however. My girls enjoyed having enough space between them for some breathing room, and they liked using the center console area with its easy access to cupholders and a little storage bin for their stuff. But what they really loved about the split seat design was having easy access to the open cargo area. When climbing into the car before heading to school in the morning, they could easily slide their ginormous backpacks into the cargo area. When it was time to jump out of the car, they could just reach back and grab their bags. For a family trying to downsize their big car for a small alternative fuel car, flexible access to a large cargo space is a big plus.
The Volt's split glass hatchback cuts down on rear visibility. My test car did not come equipped with the optional backup camera, but I found that this would be a must-have for anyone driving this car, especially families. According to our friends at KidsandCars.org, more than 50 children are backed over every week in the U.S. Poor rear visibility just isn't a compromise I'm willing to risk my children's safety on.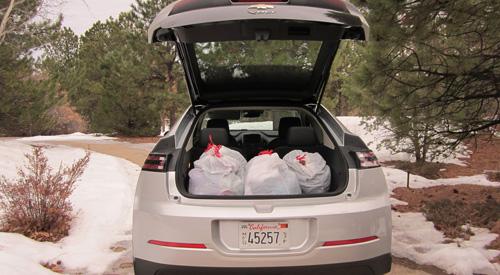 After driving both the
Volt and Leaf
, I'm convinced that an electric vehicle could fit into our lives seamlessly in terms of driving range. The Volt goes up to 35 miles on an electric charge and roughly 375 miles on a tank of gas. I loved educating my kids about the benefits of electric technology in cars, but one area I wouldn't include them in is the actual chore of charging.
The Volt's charging cable is stored under the cargo floor. When my daughter and I pulled up to a free charging station and opened up the cargo floor, she said, "What is that thing! It looks like a man tool." The cord itself is large, a little bit heavy and definitely unruly. Add to that the abundance of "Risk of Electric Shock" stickers and I quickly relegated my daughter to the position of a pouty observer rather than a participant while I figured out what to plug where.
I look forward to the day when the charging process is simplified. I'm hoping for a retractable cord that pulls out from the vehicle itself (like it does with my $19 hair dryer) and plugs into a regular home outlet or better yet would connect to a home charging station with a satisfying, strong magnetic "click" sound, the same way the power cord attaches to my MacBook laptop.
For me, driving the Volt was just as satisfying as driving any other hybrid out there, which is to say somewhat boring. I like an exhilarating driving experience as much as anyone ... after the kids are dropped off, of course.
Add that ho-hum performance to the mixed feedback from the rest of my family and the Volt fell short in our real-world test.