2012 Chicago Auto Show: Winners and Losers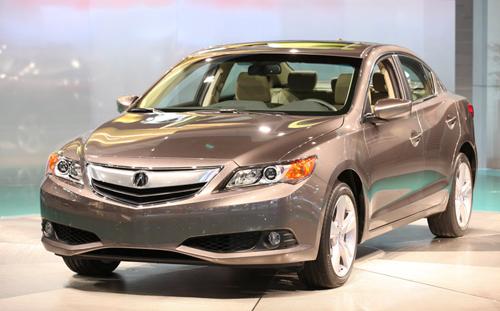 Not many drapes were ripped off all-new cars under bright lights in Chicago over the past few days. The debuts we saw were limited in number, but the size of the show itself is seemingly endless and filled with more commonplace models. At least that's what our feet are saying.
More 2012 Chicago Auto Show Coverage
That doesn't mean we're short on opinions of the few debuts we did see. We've enlisted more editors to make up for the short list of cars. David Thomas, Kelsey Mays, Joe Bruzek, Colin Bird and Mike Hanley grade the debuts. Who doesn't want to hear more opinions from automotive journalists?
2013 Acura ILX
David Thomas: Winner
I was expecting to be impressed with a spacious interior in a compact car, like I was with the new Honda Civic. I wasn't expecting the ILX to be the best-looking Acura sedan at the booth. The brand's design could be better, but if it keeps moving in this direction I see hope.
Kelsey Mays: Loser
Acura (and Buick, for that matter) paid heed to the pitfall potential in the elusive near-luxury segment. Cabin materials feel a lot richer than the Civic's dowdy surfaces, but I disagree with David: The ILX still looks bland, and the odd blank space below the grille recalls Keanu Reeve's Neo having his mouth fused shut in "The Matrix." Gas mileage is well below the Civic, even with the base four-cylinder. For entry-luxury cars to catch on, models like the Buick Verano and ILX can't fall 7 or 8 mpg on the highway below their non-luxury counterparts.
Joe Bruzek: Winner
The ILX has the same premium interior feel of Acura's current entry-level TSX, but it has higher gas mileage ratings, the backseat is more comfortable and Acura says pricing will be well below $30,000, which is the TSX's starting price. All those things point to a winning formula, but it begs the question: Why didn't they just call this the TSX?
Colin Bird: Winner
This is a close call for me, but I'm calling the ILX a success based solely on the fact that Honda's luxury brand seems to have finally accepted its place in the automotive hierarchy. It can't compete with the Mercedes and BMWs of the world, and it shouldn't even bother. Acura's peak years occurred when the brand was selling premium (read: not luxury) cars like the Acura RSX and more humble-looking versions of the TL, RL, MDX and, of course, the NSX halo vehicle. If this car is truly priced well below $30,000, Acura's mojo - sterile but competent engineering and geeky looks with some sportiness - is back.
Mike Hanley: Loser
While I liked the ILX's high-quality interior, I never warmed to its exterior design — even after a second visit to the Acura stand. The brand's beak-like grille is off-putting, and the car incorporates unusual cues, like bulging haunches that recall the Dodge Charger of all cars.
2013 Ford Mustang Shelby GT500 Convertible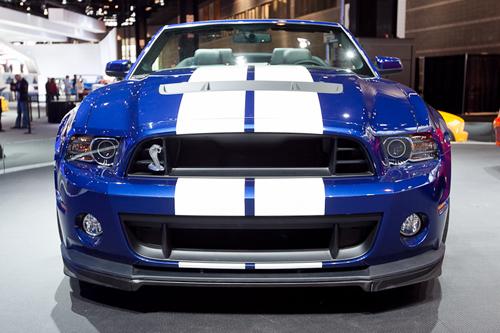 DT: Loser
Call me crazy but I have no desire to drive a 650-horsepower convertible. Coupe? Yes. Boss 302? Hell yes. This? No.
KM: Loser
The proof will be in the driving, but the last Shelby lacked the throw-around drivability of the Boss. The burden's on Ford with this one.
JB: Loser
I'm all for 650 hp no matter how unusable that power is on the street on low-profile tires. I would, however, feel a wee bit more comfortable with some steel above my dome in a car capable of 200 mph. When does the accessory roll bar come out?
CB: Loser
I agree with David and Joe on this one. Talk about a dyed-in-the-wool muscle car of bygone days. No convertible needs this much power. Convertibles that aren't roadsters should be relegated to touring duties only. Yes, I'm a cantankerous old man.
MH: Winner
You're only as old as you feel, Colin, and I suspect driving the Shelby GT500 convertible could make the years fall off. I admit that a 200-plus-mph Mustang is a bit shocking — frightening, actually — but the thought of not having any steel and glass between your ears and the quad exhaust tips is highly appealing.
2013 GMC Acadia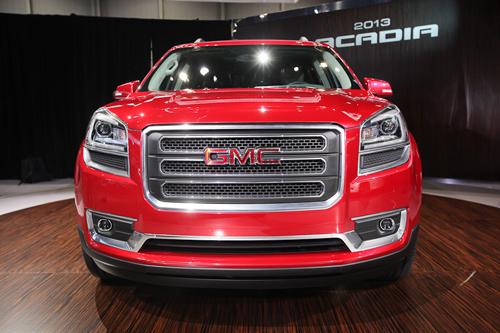 DT: Winner
The exterior changes will make the biggest difference in terms of drawing in buyers to what is already a solid-selling crossover. The interior isn't as refined as I expected after seeing the press photos. Still, for the money, the Acadia offers a lot of room and now has more advanced features, too.
KM: Winner
I expected mild changes, but the Acadia's remodeling impressed. The stitched dash and doors elevate the usual interior quality in a large crossover, and the center controls have large, easy-to-use dials. The best part? The Acadia, like its Buick and Chevrolet siblings, still boasts a lot of cargo space: 24.1 cubic feet behind the third row and a near-minivan 116.1 cubic feet of maximum room. Left brain meets right brain.
JB: Winner
In person, the Acadia's new design appears more fluid and complete than in photos where the new styling looks clunky and tacked on. Along with the higher-quality interior, I'm also happy to see the old navigation system replaced by something new. We haven't used it yet, but anything should be better than the old system's pitiful graphics.
CB: Winner
I'm blown away by GMC's new design language. I didn't expect this type of styling (originally seen on the Granite concept) to scale so well to larger GMCs, especially on a refresh like the Acadia, which still keeps its rather boring side profile. Now that Ford has abandoned the Gillette grille look, someone had to pick up the baton. I'm glad GMC was there eagerly waiting. Put this look on everything, GM: the Sierra, Terrain, Yukon and even the Camaro. Everything.
MH: Winner
I agree with the guys: The 2013 Acadia impressed. GMC actually had some earlier versions of the crossover on the show floor and the difference is rather dramatic, especially in front where the new vertical grille works really well with the rest of the design. Upper sections of the interior have a more premium look, but take a glance lower and materials quality quickly diminishes. More concerning, though, are the touch-sensitive controls that have sprouted alongside the center screen. We weren't able to test it, but I sure hope it's better than MyFord Touch.
2013 Hyundai Elantra Coupe
DT: Loser
I've owned coupes like this one before and enjoyed it, but these days if I want a coupe I'd go with something wild like the Hyundai Veloster that was a few steps away on the show floor. Plus, that rear overhang looks awful.
KM: Winner
I didn't mind the overhang. Overall, the styling wears well. Visibility inside is OK, and the backseat is generous. I jumped in a Honda Civic coupe's backseat for comparison and it's cramped. Kudos to Hyundai for putting seat belt extenders on the B-pillars. This keeps the belts in close reach and is a must for any coupe. I didn't have to twist, but I'll still shout: The Elantra coupe wins in my book.
JB: Loser
Like David, I can't see anyone who's looking for a small sporty car choosing the Elantra coupe over Hyundai's own Veloster. The Elantra coupe is well done in its own right, maintaining the Elantra sedan's large interior dimensions and trunk.
CB: Loser
Are coupes back? I know coupes are a cyclical fad in the automotive industry, but the whole idea behind this model strikes me as very '90s. I'll pass.
MH: Winner
I like the Veloster, but not everyone wants a three-door small car, and now Hyundai has something for traditional coupe buyers. Sedans may rule in the U.S., but it's nice when an automaker is willing to offer more than one body style of a car.
2013 Hyundai Elantra GT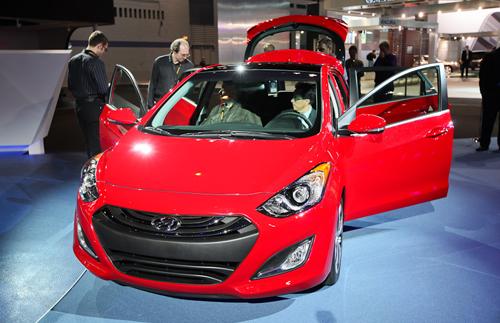 DT: Winner
The coupe doesn't make much sense, but a hatchback to battle those from Ford and Mazda makes a lot more sense. The available panoramic roof is crazy in this class, but I wonder how much it'll cost.
KM: Winner
This is where my interior-materials geek comes out. Padding atop the doors, stitched armrests, fabric-wrapped A-pillars? The Acura ILX has plastic pillars, for goodness sake. Show 'em how it's done, Hyundai. Like David, I question how much a well-appointed GT will cost, but Hyundai's characteristic value proposition allays some concern.
JB: Winner
The Elantra GT has a good start sharing the sedan's sizable interior and good looks. My gripes with the car we saw at the auto show were with the heft of the folding backseat and long reach to close the hatchback. I don't think those will be enough to deter shoppers from the GT's large size and good gas mileage, but a lot depends on price.
CB: Loser
I have the opposite feelings on this car than I had on the Elantra coupe. I really liked that the Elantra Touring was, essentially, the only non-luxury station wagon available to Americans. Europeans love hatchbacks, and I'm sure Hyundai primarily designed this model to suit the needs for our European brethren. Thanks a lot!
MH: Winner
The GT's premium interior is impressive in this class, and the hatchback delivers on the style front, too. As with the new coupe, I like the addition of another body style to the Elantra line.
Kia Track'ster Concept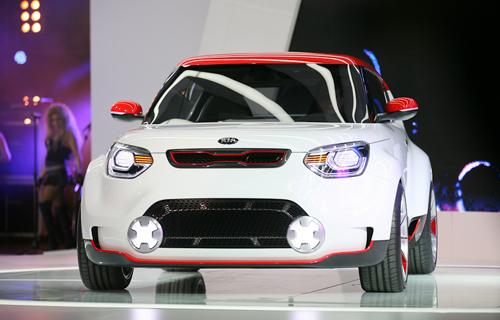 DT: Winner
I'm not sure why you'd want a smaller Kia Soul since it isn't that sporty, but if you based this off of Hyundai's Veloster, I could see it being fun to drive. Of course, this is but a concept — something cool to look at between checking out practical cars — and in that regard it's a big winner.
KM: Loser
Kia says it will never build the Track'ster, which, in the vein of the Soul's exclamatory trim levels, throws in some nameplate punctuation for good measure. I didn't get it. Whatever - I mean, wha!t+ev'er.
JB: Winner
Who knew the Soul would look so good as a two-door. The Track'ster looks ready to race with its mean stance, wide tires, bulging fenders and pizza-dish-sized brakes.
CB: Winner
The Soul is one of Kia's best-sellers and I could see a two-door version doing very well, too. Despite what Kia said to Kelsey, I'm sure that's what its primarily trying to figure out with this concept. It could make for a fun, cheap alternative to the Mini Cooper and could give the Fiat 500 a run for its money, too.
MH: Winner
The Track'ster looks like what you'd get if you sculpted a Soul out of a giant block of butter and let it sit in the driveway for a few hours. Somehow, the melted look works on this concept in a way it never did on bygone versions of the Chevrolet Caprice and Ford Taurus.
2013 Nissan 370Z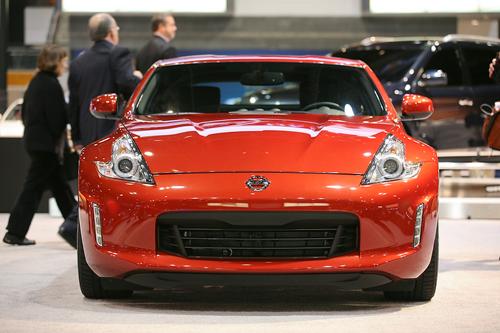 DT: Winner
The changes are minimal, so normally I wouldn't label this a winner. However, you have to give props to Nissan for continuing to produce one of the few pure sports cars on the road ... that doesn't cost an arm and a leg.
KM: Winner
The Z may not cost an arm and a leg, but it's not cheap, either. For one, I hope Nissan fleshes out the audio equipment on base models once the car goes on sale in June. But David's right: The Z is a hoot behind the wheel. I was on the fence on this one, but maybe Chicago's warm winter already has me thinking springtime driving.
JB: Loser
Don't get me wrong, I love driving the 370Z, but it will be lost on auto show public days when a kid is standing in front of you and blocks everything that's changed.
CB: Loser
I liked the shark-toothed lower intake of the previous model, but I get a bass-mouth feel from the new air intake; it's emasculating to me.
MH: Loser
I like the Z's performance as much as the next driving enthusiast and I'm glad to see that it doesn't appear to have been diminished with this update, but I'm with Joe: Its auto show impact is essentially nil.