2012 Nissan Altima: Car Seat Check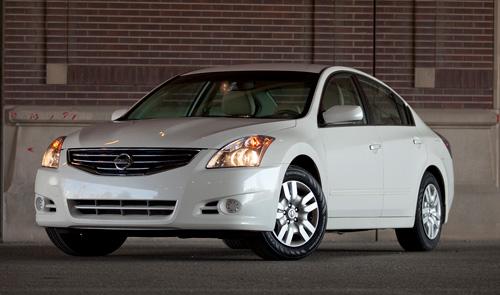 In 2011, 268,981 Nissan Altimas were sold, placing this midsize sedan at No. 4 on the year-end best-sellers list. It outsold the Honda Accord, which sold 235,625 units, and earned the Altima a spot right behind its competitor, the Toyota Camry. The Altima seats five and is available as a sedan or coupe. For our Car Seat Check, we tested the sedan.
For the Car Seat Check, we use a Graco SnugRide 30 rear-facing infant-safety seat, a Britax Roundabout convertible child-safety seat and Graco high-back TurboBooster seat.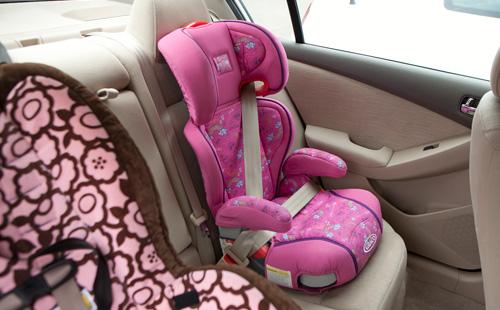 The front seats are adjusted to a comfortable position for a 6-foot driver and a 5-foot-8 passenger. The three child seats are installed in the second row. The booster seat sits behind the driver's seat, and the infant seat and convertible seats are installed behind the passenger seat. We also install the infant seat in the second row's middle seat with the booster and convertible in the outboard seats to see if three car seats will fit. If there's a third row, we install the booster seat and a forward-facing convertible.
Here's how the 2012 Altima did in Cars.com's Car Seat Check:
Latch system: The Altima has two sets of lower Latch anchors in the outboard seats. The anchors sit so deep between the seat cushions that we had to fish around to find them. Thankfully, the seat cushions move easily out of the way, so it wasn't too difficult to use the anchors once we located them. The three tether anchors, which sit on the rear shelf behind the head restraints, were difficult to use. They sit too close to the head restraints, making it tough to tighten the tether strap.
Booster seat: The fixed head restraints pushed our booster seat's high back forward. The seat belt buckles are floppy and easily overrun by a booster seat. We've found that floppy buckles are harder for young kids in boosters to use independently.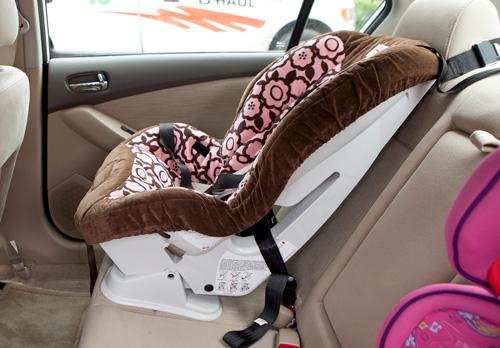 Convertible seat: Both the forward- and rear-facing convertible fit well in the Altima because the bottom seat cushions are longer, offering lots of space for the car seat's base.
Infant-safety seat: This rear-facing car seat also fit well.
How many car seats fit in the second row? Two
Editor's note: For three car seats — infant-safety seat, convertible and booster seats — to fit in a car, our criterion is that a child sitting in the booster seat must be able to reach the seat belt buckle. Parents should also remember that they can use the Latch system or a seat belt to install a car seat.