2013 Ford Shelby GT500 Convertible at the 2012 Chicago Auto Show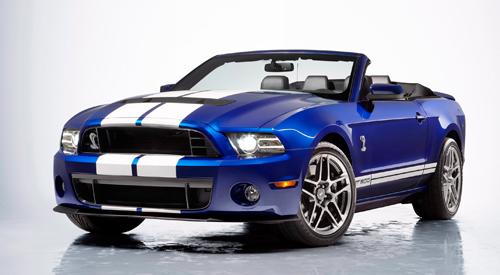 Competes with: Chevrolet Camaro ZL1 convertible
Looks like: A faster way to get a suntan
Drivetrain: 650-hp, supercharged 5.8-liter V-8 with six-speed manual transmission; rear-wheel drive
Hits dealerships: Early summer 2012
Despite the balmy winter temperatures in Chicago this year, the convertible season is still a few months away. Ford is gearing up for top-down driving by launching a new convertible variant of its high-powered Mustang: the Shelby GT500.
More 2012 Chicago Auto Show Coverage
First shown in coupe form at the L.A. Auto Show last year, the Shelby GT500 convertible uses the same supercharged V-8 engine that delivers an impressive 650 horsepower and a top track speed of more than 200 mph.
The convertible features the same muscled styling cues as the Shelby GT500 coupe, including a bulging hood, front splitter and unique grille with the Cobra badge. The rear incorporates revised versions of the familiar three-element taillights that the regular Mustang gains for 2013, too. The general silhouette is essentially the same as the Mustang convertible's, and the soft-top is powered and lined.
With 650 hp, the Shelby GT500 convertible packs 100 hp more than the 2012 version, and with the optional Performance Package, Ford claims the car is 3.5 seconds faster around Sebring International Raceway. The package features adjustable Bilstein dampers with Normal and Sport modes. Brembo-brand brakes feature six-piston front calipers, larger rotors and special brake pads. For more performance, buyers can add a Track Package with extra cooling for engine oil, the rear differential and manual transmission.