2013 GMC Acadia: Up Close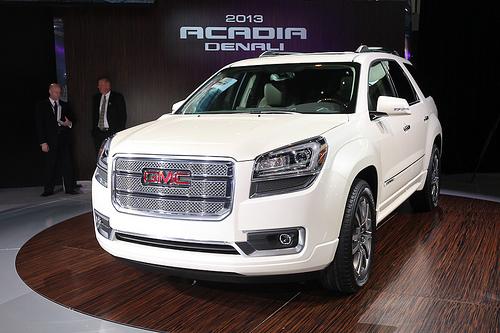 While GM has given most of its attention lately to Buick and Chevrolet — with new models such as the Buick Verano and Chevy Sonic — GMC was left to soldier on with no new models last year. Even so, the brand was GM's fastest growing for 2011, and GMC remains the carmaker's second-largest make in America.
2012 Chicago Auto Show Coverage
With that sort of track record, it's no surprise that the carmaker is focusing more attention on giving GMC its own distinctive look — the brand currently consists of nothing more than slightly reworked Chevy trucks, SUVs and crossovers. The Acadia large crossover was one of the first GMCs to wear its own sheet metal, distinctive from Chevrolet, and it is the first model to get the brand's new signature face.
The new face reminds us of the
GMC Granite concept
first seen at the 2010 Detroit auto show. There's a large, squared-off, three-bar grille and a new, more chiseled hood. The more-elegant-yet-masculine appearance looks great and is far more distinctive than the previous-generation Acadia, which looked anonymous among other GMCs. It also looks better than the GMC Terrain, whose faux brawny look always gave me a vibe of a boy wearing his father's suit.
GMC also showed off the Denali trim now instead of waiting to unveil it later. The Denali trim makes up some 30% of all Acadia sales. On this crossover, Denali means nothing more than some body-colored panels, more chrome garnishes and larger wheels. Still, both trims look great.
Inside, the Acadia gets a new upper dash design featuring more padded materials, fake metal satin trim and stitchings. It looks a bit more premium, but touching the materials proves the updates are aesthetic only; most are still hard to the touch. The new touch-screen features capacitive buttons — like those found in the 2013 Chevy Malibu Eco — and LCD readouts in the temperature control knobs lend a nice, upscale feel. Besides those changes, most of the rest of the cabin will look and feel the same to current owners of the Acadia, Chevy Traverse or Buick Enclave.
Out back, the redesigned rear end might look familiar to owners of the now-defunct Saturn Outlook, which was based off the same platform as the Acadia. The rearview glass wraps around to the rear-quarter panels, and an unexposed D-pillar (it's still there, just covered in glass) gives the Acadia a more elongated look from afar.