Cars.com News Briefs: Feb. 24, 2012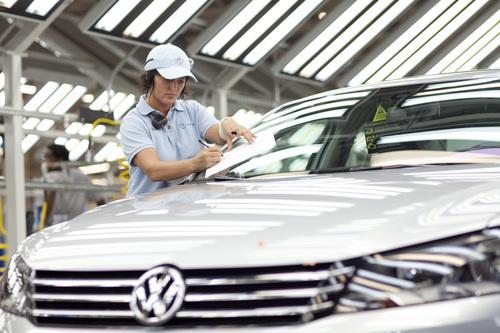 Here's what we have our eye on today:
Auto loan interest rates are at their lowest in at least four years, according to Bloomberg Business Week. The average interest rate for a new-vehicle loan averaged 4.52% in the fourth quarter of 2011, says Experian Automotive. Furthermore, access to credit for people with bad credit ratings is also increasing, according to the Experian study. The total amount of new-vehicle loans to people with non-prime credit increased to 23% of the market, up from less than 20% a year ago, according to the study. Delinquency on existing loans has also continued to decrease.
Volkswagen set records with its revenue, profits and vehicle sales for 2011, according to the New York Times. The automaker sold 8.3 million vehicles last year, making it the second-largest automaker behind GM, which sold about 9 million cars, and ahead of Toyota, which sold 7.95 million. Volkswagen recorded a $15.1 billion profit before interest and taxes; the company's net profit was nearly three times more than GM's, says the New York Times. Volkswagen controls Audi, Skoda, Seat, Lamborghini and Bentley, and it is in the process of taking control of Porsche.
U.S. auto sales are expected to reach an annual rate of 14 million for February, according to J.D. Power and Associates and Automotive News. If the projected seasonally adjusted rate comes true, that would mean four consecutive months of relatively strong vehicle sales. The robust pace has prompted analysts to adjust their year-end sales projections for 2012. LMC Automotive, which partners with J.D. Power, has upped projections to 14 million, from 13.8 million. Total U.S. sales in 2011 came in at 12.8 million.
Steve Ratner, a former lead adviser in President Barack Obama's auto task force, lent his two cents about the resurging political controversy swirling around the auto bailouts from Republican presidential hopefuls. In an op-ed in the New York Times, Ratner says that while Mitt Romney's idea of an independent "managed bankruptcy" sounds good on paper, the reality is that his task force tried to get private financiers to back the bankruptcy, but none would touch the carmakers at the time. Ratner also rebukes charges that the bailouts were illegal, saying judges – all the way up to the U.S. Supreme Court in the case of Chrysler — certified their legality.