Chrysler's Mopar Dart, 500, 300C and Compass: Up Close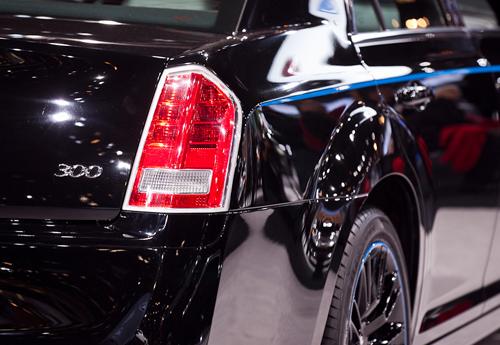 Chrysler celebrated the 75th anniversary of its Mopar accessories division by bringing four custom vehicles to the Chicago Auto Show: a 2012 Chrysler 300C, 2013 Dodge Dart, 2012 Fiat 500 and 2012 Jeep Compass. The Mopar-accessorized, rear-wheel-drive 300C will be available from the factory this summer for around $49,000 -- about $3,000 more than a loaded rear-drive 300C. The others are available with assorted parts from Mopar's catalog, and I checked out all four.
More 2012 Chicago Auto Show Coverage
True to its factory-rollout status, the Mopar 300C looks like the sleeper of the bunch, with subtle blue stripes and matching wheels. Pop the hood, and Chrysler's 5.7-liter V-8 has blue etching. Thanks to a 3.91 rear axle ratio -- compared with 3.06 for the standard 300C -- the Mopar car should hit 60 mph in close to 5 seconds, Chrysler says. The automaker doesn't cite an exact zero-to-60 time on the regular 300C, except to say it's "under 6 seconds." The tradeoff is the engine running at higher, mileage-killing rpm on the interstate, but I doubt any Mopar owner will care. I'm not as wild about the custom interior. It gets a cool, palm-sized automatic shifter but trades the 300's upscale Nappa leather for blue-accented Katzkin leather seats. They feel like too much aftermarket cowhide: shiny and, well, cheap.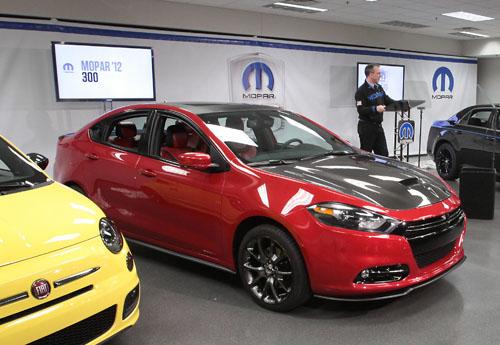 At the other end is Mopar's "GTS 210 Tribute" Dart, a version decked out with a slew of Mopar's 150-plus Dart accessories: chin spoiler, side extensions, rear diffuser, decklid spoiler, carbon-fiber hood and more. Mopar optimized airflow to the Dart R/T's 2.4-liter four-cylinder for another 26 horsepower, for a total of 210. The extra go should be fun, though I'd rather see Mopar go hog-wild on the Dart's 1.4-liter turbo instead. It's also a good thing this car is build-your-own: As it stands, Chicago's Mopar Dart has all the festoonery of a slammed Japanese compact. The offset front splitter, side sills and rear diffuser appear slapped-on, especially since they're a different color from the rest of the car. Ditto for the black deck spoiler.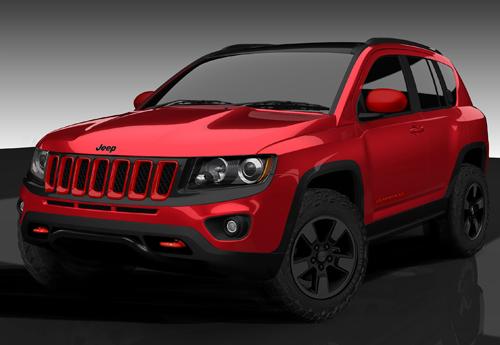 The other Mopars -- a Jeep Compass "True North" and Fiat 500 "Stinger" -- fall somewhere between the tasteful 300 and overdone Dart. With its checkered, racing-flag roof, the 500 Stinger evokes a Mini Cooper's checkered-roof accessory. The yellow accents inside are a bit too much for me, however. The Compass True North has as many tack-on pieces as the Dart, but it works better. With a suspension raised two inches, plus dark lower cladding and brush bars all around, this is one Compass that avoids the dopey profile. Inside, Mopar's neoprene seats have comfortable backings but rock-hard head restraints. Auxiliary pitch and incline gauges perch atop the center controls. It ain't pretty, but the utility is cool.