Kia Track'ster Concept at the 2012 Chicago Auto Show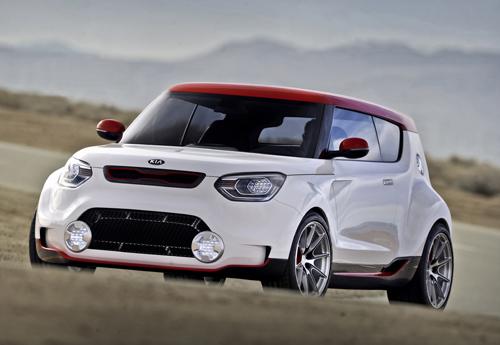 Looks like: Soul's portlier, menacing cousin
Defining characteristics: The body is low and long, with eye-catching Whiteout White and Inferno Orange paint colors and flared, sculpted front wheel arches
Ridiculous features: Taillamps that appear to be set into the rear glass
Chances of being mass-produced: Not a chance
Although most people already consider Kia's boxy Soul to be bold-looking, the automaker is ramping things up with a new Soul-based concept. The Track'ster takes the Soul's looks to new extremes with loud orange paint, exaggerated and enlarged wheel arches, a lowered stance and carbon-fiber exterior trim.
More 2012 Chicago Auto Show Coverage
"The idea was to make the Track'ster tough looking, like a bulldog. But the car had to be approachable as well. We wanted to base the car in reality so people instantly knew it was a Soul, but with a lot of attitude," said Tom Kearns, chief designer for Kia Motors America.
The concept trades the production Soul's four doors for two extra-long ones and rides on a stretched version of its platform. The Track'ster is almost an inch longer and more than 5 inches wider than the Soul. The all-wheel-drive concept is powered by a 250-horsepower, turbocharged 2.0-liter four-cylinder engine and six-speed manual transmission—much brawnier than the 2012 Soul's 135-hp 1.6-liter or 164-hp 2.0-liter engines.
The orange theme carries inside the Track'ster with matching suede racing seats. The rest of the cabin is trimmed in Granite Gray leather and suede. The concept lacks rear seats. In their place are bins to store racing and performance-enhancement equipment.
The Track'ster concept marks the second time in the Soul's short history (it was new for model-year 2010) that Kia has based a concept off it. Track'ster follows the Soul'ster pickup-truck convertible concept that debuted at the 2009 Detroit auto show.
Kia has no plans to develop the Track'ster concept, but based on its history of modifying the Soul, we may soon see new iterations of the boxy subcompact.