Lexus Marketing Chief: No Entry-Level Cars Needed for Sales Comeback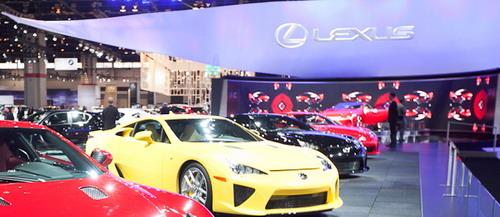 Premium cars priced below $30,000 are coming back. Last year Buick introduced the Verano, a smallish sedan that's based off the Chevrolet Cruze and starts under $23,000. Acura followed with the ILX, which shares underpinnings with the Honda Civic and will start "
well below $30,000
" when it hits dealerships this spring. Mercedes is still on track to roll out a
family of compact cars
stateside.
Toyota's Lexus division wants none of it. Lexus has just one car below the $30,000 mark, the pint-sized CT 200h hybrid, and it sells well enough. But the automaker wants none of the near-luxury pie, said Brian Smith, marketing vice president.
"I don't think [entry-luxury] is a focus of ours right now," Smith said. "Other manufacturers have a reason for going there. Some might be customer demand; some might be government regulation" — a reference to the federal government's corporate average fuel economy program. Lexus has Toyota and Scion to balance the lower mileage of its luxury cars; BMW and Mercedes, on the other hand, lack mass-market U.S. divisions.
Different Focus
Instead, Smith is focusing on other products, like the redesigned GS.
"We've learned over the years one of the worst things for a great launch is trickling out the product," Smith said. "And in this case, the remaining inventory of the previous-generation [GS] is virtually gone. There's no reason to worry about a sell-down. We just opened up the factory to produce as much as possible. We're probably going to get well over 1,000 [cars] retailed this month."
Still, Cars.com has just 752 redesigned GS models in its national new-car inventory — far less than the BMW 5 Series sedan (more than 5,000) and Mercedes-Benz E-Class sedan (3,305).
That could change as the flagship GS 450h hybrid arrives. It's about 90 days out, Smith said at this month's Chicago Auto Show.
Regaining the Crown
Last year's Japan earthquake stymied Lexus supplies, which fell below BMW and Mercedes inventory six out of the nine full months that followed the March 11 trembler, according to Automotive News data. Lexus sales fell 13% for the year, ultimately losing the brand's U.S. luxury sales crown — something Lexus had for 11 years — to both German rivals.
Will Lexus regain the title? Smith doesn't know, but he's optimistic.
"We're well on our way to recovery," Smith said. "It will be difficult to say where we're going to end up ... [but] we have a game plan to be the fastest-growing luxury brand."
Lexus will accomplish that this year with nine new or redesigned cars, including the GS, plus three F-Sport packages. The division is responsible for nearly half of the 19 new or redesigned cars coming in 2012 from parent company Toyota, which includes the youth-oriented Scion brand.
One of them could be a cousin to the RX SUV, still the second-bestselling luxury car in 2011. Since the first-gen RX arrived some 14 years ago, competitors have fielded SUV after SUV to knock it off its perch, something Lexus' own marketing relishes. With related segments emerging around it — from the mini-SUV Buick Encore to three-row players like the Acura MDX and Buick Enclave — Lexus has room to expand.
Will the brand introduce a baby- or plus-sized RX? Smith won't rule it out.
"There is room for that type of thing, [but] nothing that we can announce right now," he said. "I would love to see the RX family grow. We don't have specifics, but it's a very capable vehicle, and it's a broad section of the market."