NHTSA Unveils New Test Dummy and Child Seat Guidelines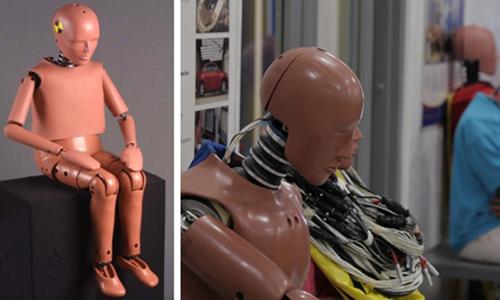 The National Highway Traffic Safety Administration recently amended its child seat guidelines and now recommends that children weighing up to 80 pounds be restrained in a booster seat. Previously, the agency specified that children sit in a safety seat until age 8 or until they are 4 feet 9 inches tall.
NHTSA also announced it is adding a new child-size crash-test dummy to evaluate how higher-weight child seats perform in a crash.
Crashes are the leading cause of death among children ages 3 to 14, NHTSA says. The new dummy weighs 78 pounds and simulates the size of a 10-year-old child. It joins several siblings in the test-dummy family, including a newborn, a 12-month-old, a 3-year-old and two 6-year-olds, all with varying weights.
The child-size dummy is a long time coming; NHTSA has been developing it for more than a decade. In 2000, NHTSA worked with the Society of Automotive Engineers' Dummy Family Task Group to develop the test subject. It first tested a prototype of the dummy in 2002.
"Our new dummy is an excellent addition to NHTSA's extensive child seat compliance testing program and will enable the agency to gather the best data yet on the performance of higher-weight child seats," NHTSA Administrator David Strickland said in a statement.
Although some child seats on the market are rated for the new weight, NHTSA says manufacturers will have two years to certify their higher-weight car seats and boosters to meet the new requirements.
View current child seat standards here.