Sorento, Optima Sustain Kia's Steady Growth
As bigger brother Hyundai takes center stage with the media and the public, Kia's blossoming is just as impressive, if not as acclaimed. Kia — which, in Korean, means "to arise or come up out of Asia" — is a dark horse in the auto industry. The carmaker was one of the fastest-growing brands in 2011, and its market share has grown for 17 straight years. "Our goal is to make 2012 our 18th consecutive year," says Tom Loveless, chief of sales at Kia.
The driving forces behind the company's growth are the Kia Sorento, Soul and Optima, according to Loveless. The pace has only picked up in recent years since the Korean automaker built its first U.S plant in 2009.
The Georgia assembly plant builds the latest generation of the Sorento, currently the carmaker's best-seller. Late last year, a $100 million expansion allowed the plant to build 360,000 vehicles a year. That will allow Kia to build 50% of the cars it sells in the United States domestically by the end of 2012, according to Michael Sprague, chief of marketing at Kia.
Kia's estimates pale in comparison to competitors such as Toyota and Honda, which domestically source about 70% and 85% of their vehicles, respectively. But it's far better than Kia's figures from 2011, which closed in on a mere 25%, according to Automotive News.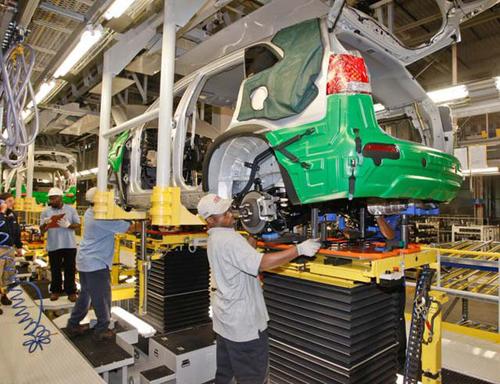 The models that will help Kia the most in reaching its new import/U.S.-made balance are the Optima and Sorento. The rest of Kia's models, such as the Soul and Sportage, are built in South Korea. The Optima recently went into production at the U.S. car plant, alongside the Sorento. The move coincides with the Optima becoming Kia's best-selling vehicle for the past two months, and almost all of those models were built in America.
As more shoppers become aware of Kia, the more the brand is cross-shopped with other popular brands like Ford, Toyota and Honda, says Sprague. It wasn't long ago when Hyundai was Kia's largest cross-shopped brand; though independently operated and marketed, Kia is a subsidiary of Hyundai. Today, Hyundai remains among the top five considered brands against Kia, and "more and more Honda and Toyota cross-shops" are accruing, says Sprague.
The NBA and Blake Griffin sponsorships have really helped Kia, says Sprague, and they will continue going forward. The carmaker will also sponsor some motorsports events, including B-spec racing with the Kia Rio. There was also the well-received Super Bowl commercial for the Optima earlier this month.
As for the Soul and its singing hamsters, expect the campaign to continue for now, Sprague says.