What's the Most Affordable Full-Size Crossover?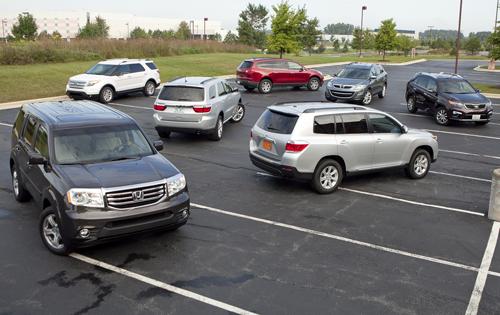 The full-size, three-row crossover segment is relatively new to the automotive landscape. You need to look back only four or five years to see how quickly the segment has changed from just a handful of models to more than 15 models today.
For folks who find minivans anathema, these large crossovers are the best alternatives. Some — like the Chevrolet Traverse — are roomy enough that there's little tradeoff in terms of passenger room. The unibody architecture of large crossovers makes them generally more maneuverable and fuel efficient compared with three-row, full-size SUVs, like the Chevrolet Suburban and Ford Expedition.
Check Out: $37,000 SUV Shootout
Recent converts from SUV to crossover pedigree include the Dodge Durango and Ford Explorer, which are now competing against fairly old stalwarts like the Honda Pilot and Toyota Highlander.
The full-size crossover market will expand soon, with the three vehicles on the horizon: the 2013 Nissan Pathfinder (which switches to a crossover platform), the 2013 Infiniti JX35 and the upcoming Jeep Grand Wagoneer.
To find out who makes the most affordable full-size crossover, we've taken into consideration fuel economy, features and the final cost. For this comparison, these large crossovers needed to have the features listed below:
Third row of seats
Automatic headlights
Bluetooth connectivity
Remote keyless entry
Steering-wheel-mounted audio and cruise controls
Tilt/telescoping steering wheel
Backup camera
Power liftgate
This criteria knocked out the 2012 Kia Sorento, 2012 Hyundai Veracruz and 2012 Dodge Journey, all of which either didn't have a power liftgate or a backup camera option.
We also added 48,000 miles' worth of gasoline costs (four years of driving 12,000 miles a year) figured at $3.52 per gallon.
Here is how the crossovers stacked up:
---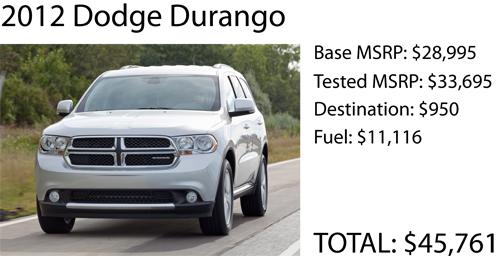 The Dodge Durango is now in its second year after a major overhaul for 2011. It is based off a stretched version of the Jeep Grand Cherokee and features enough room for two adults in the third row, in a pinch.
Compared to other three-row crossovers, the Durango is one of the least expensive, with a starting price of $28,995, and luxurious options that cost thousands less compared with the competition. A base Durango comes with fog lights, automatic headlights, 18-inch alloy wheels, Bluetooth, dual-zone automatic climate control, cruise control and steering-wheel-mounted audio controls.
To get a power liftgate and a backup camera, you need to upgrade to the Crew trim. At $33,695, the Durango had the most affordable tested MSRP, yet it still packaged tons of extra features, including a 6.5-inch touch-screen, 10-speaker stereo and push-button start.
Unfortunately, the Durango has the most expensive destination charge, $950, and its V-6 returned an average 20 mpg in the combined EPA cycle. Even with those costs, the Durango is one of the most affordable crossovers you can buy.
Notable features
Rear parking sonar
6.5-inch touch-screen, 40-gigabyte music storage
Dual-zone automatic climate control
Auto-dimming rearview mirror
Passive keyless entry, push-button start
Remote start
---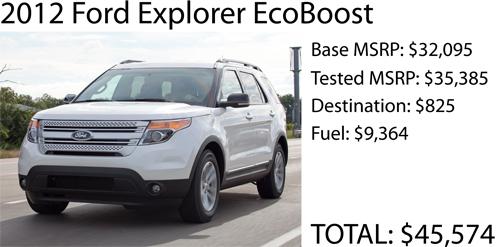 Also in its second model year, the redesigned Ford Explorer now shares a platform with the Ford Taurus and Ford Flex and is front-wheel drive now. The Explorer's third row felt rather comfy, and there was adequate cargo space behind the third row. For 2012, Ford added a 240-horsepower EcoBoost four-cylinder that gets 28 mpg highway, which we also priced for this comparison.
Like the Durango, the Explorer has one of the lowest starting prices available at $28,280, but to get the features we wanted, we needed to opt for pricy option packages that include a bunch of features that you might not want, such as Ford's complicated MyFord Touch multimedia interface.
The base Explorer doesn't have an available backup camera or power liftgate, so you must upgrade to the XLT trim, which also gets you 18-inch alloy wheels, automatic climate control, reverse-sensing sonar, automatic headlights and a security alarm. To get a backup camera, you must opt for Equipment Group 201A, a $1,800 option that also brings MyFord Touch and an auto-dimming rearview mirror. From there, a power liftgate tacks on another $495.
Fuel economy on the 290-hp V-6 is pretty good at 20 mpg combined, but the EcoBoost's 23 mpg score is worth the model's extra $995. After four years of driving, the EcoBoost powertrain will save you $1,196 in fuel costs over the V-6, making the Explorer with EcoBoost one of our most affordable models at $45,574 with fuel and destination expenses.
Notable Features
Sync and MyFord Touch with three LCD screens
Keypad keyless entry
Auto-dimming rearview mirror
Dual-zone automatic climate control
Backup sonar
---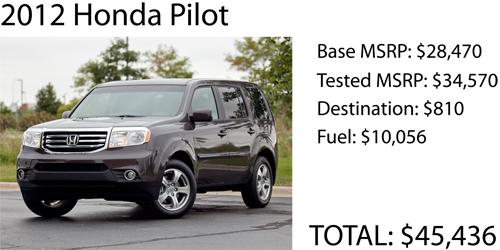 One of the oldest of the large crossovers, the Honda Pilot is in its second generation and recently underwent a midcycle refresh that brought revisions to the powertrain, interior and more standard equipment.
The Pilot has earned our Family Car of the Year award, and it recently won our $37,000 SUV Shootout, too. The Pilot won those accolades because it is one of the most spacious crossovers, with accommodating second- and third-row seats and plenty of cargo space to boot.
The Pilot is also one of the most affordable crossovers. To get a backup camera and leather upholstery, we opted for the EX-L trim. That may sound expensive, but with an as-tested price of $34,570, the Pilot has one of the least expensive tested MSRPs, and yet it still comes with features like leather upholstery and heated front seats.
The Pilot's updated 250-hp V-6 gets a 2-mpg bump this year, now achieving 21 mpg in the combined cycle, which is above average for the class. Add in gasoline and destination, and the Pilot becomes the second-most affordable crossover on the market.
Notable features
Leather-trimmed
Three-zone automatic climate control with humidity control
8-inch display with 2 GB music storage
Bluetooth audio streaming
---
One of the few bright spots at Toyota last year was the Highlander, whose sales rose about 10%. The model got a mild refresh in 2011 that basically amounted to a more truckish look and some revisions to the Highlander Hybrid's powertrain. There's little room for third-row passengers, unlike the other three models, and cargo room is below par, too, with all the seats up.
For this comparison, we price-tested the V-6 Highlander and the Highlander Hybrid. (The 187-hp four-cylinder Highlander, while having a standard third row, cannot be optioned with a power liftgate.) At 20 mpg combined, the V-6 Highlander has average fuel economy. The Highlander Hybrid is the only model equipped with four-wheel drive in this comparison (it wasn't a requirement, but it comes standard on the hybrid) and has the best fuel economy at 28 mpg.
Cutting to the chase, the V-6 Highlander is the most affordable crossover. It has the lowest entry-level starting price at $28,240. We equipped a Highlander SE with a backup camera and power liftgate for $34,000, which is more than $500 less expensive than the also-affordable Pilot.
Still, because the Highlander is less fuel efficient, the model is ultimately only $66 more affordable than Pilot. The Highlander Hybrid doesn't bode as well in terms of affordability. While the model saves you about $2,800 in fuel costs compared with the average crossover, it was one of our most expensive at $49,199 after four years of gasoline and destination.
Notable features
Bluetooth audio streaming
Leather-trimmed
Heated windshield de-icer
Heated front seats
---
Conclusion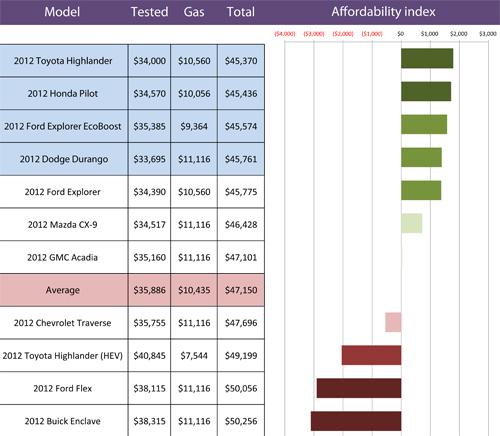 There may be misconceptions that Japanese models — particularly those from Toyota and Honda — are more expensive because of their perceived quality and resale value. That's simply not the case, at least with full-size crossovers.
The starting and as-tested prices of the Pilot and the Highlander were lower than the price of the Durango, which has an attractive list of luxury features. Both models are among the most fuel efficient, too.
At the same time, all automakers certainly have done their homework and priced their vehicles competitively — only about $400 separates the top five most-affordable models, all of which are mentioned in this comparison. Oddly, it's GM's large crossovers — like the Buick Enclave, GMC Acadia and Chevy Traverse — that ended up being some of the priciest models. So, too, is the Ford Flex crossover, the Explorer's forgotten sibling. However, car shoppers will likely find attractive incentives on all four of those vehicles.